Khao Soi is probably the most famous dish in Northern Thailand, especially in Chiang Mai, although it originally comes from Myanmar (Burma). It is a curry and coconut milk broth with fresh egg noodles and topped with crispy fried noodles. Although other versions are available, chicken is the most traditional and seems to be the version that a restaurant is ultimately judged by, so I am focussing on that. It's always served with a wedge of lime, some sliced raw shallots and pickled greens - if it's not, then it's usually a good sign that you're not getting an authentic version.
It is usually eaten in the morning or early afternoon so most of the best versions aren't available in the evenings. The price of each bowl is mentioned but because they're all so cheap, it never influenced my judgement.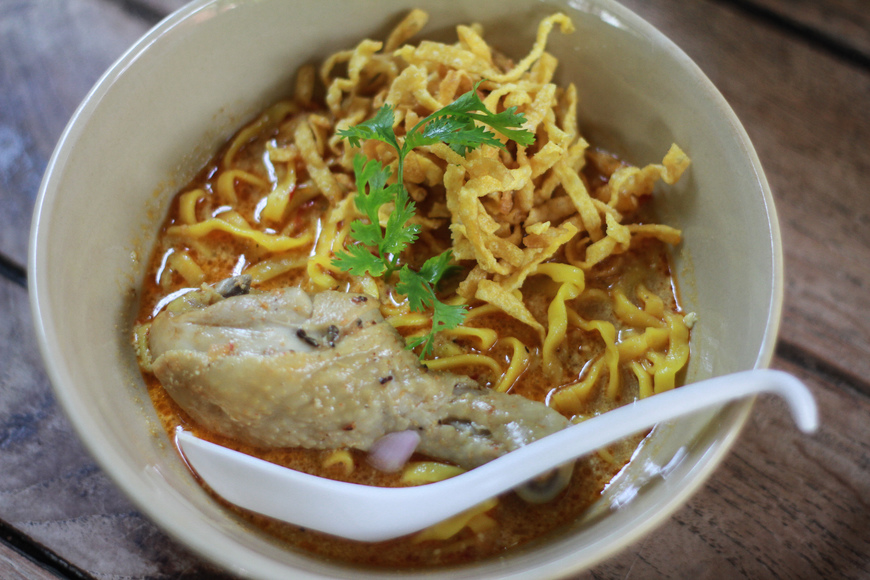 Bowl of Khao Soi at Khao Soi Nimman
Like its name suggests, Khao Soi Nimman is an upmarket restaurant in the trendy area of Nimman. The setting is beautiful and relaxing, with an indoor section with A/C and an outdoor area. Despite the almost fine-dining setting, a bowl of their chicken khao soi still only costs 69 baht. Their menu had the most options for khao soi that I've seen so far, but obviously I went for the chicken version.
Firstly the presentation is wonderful. I think it has to be the best looking khao soi I've had. The curry sauce was slightly lighter than some other versions, lacking the real depth of my favourite local versions, but it was very well balanced with a nice bit of heat from the chilli oil. The fried noodles were especially crispy and the fresh noodles were pretty much perfect. The chicken, which I sometimes feel is unnecessary, was very tender and delicious.
Overall, it was a real treat and I highly recommend it. The spice level and depth of flavour was somewhere neatly in between the very local versions and the tourist versions that I've tried many times. I think that happy medium, coupled with the setting and location, might make it the winner, especially for foreigners.
Read more about Khao Soi Nimman...
---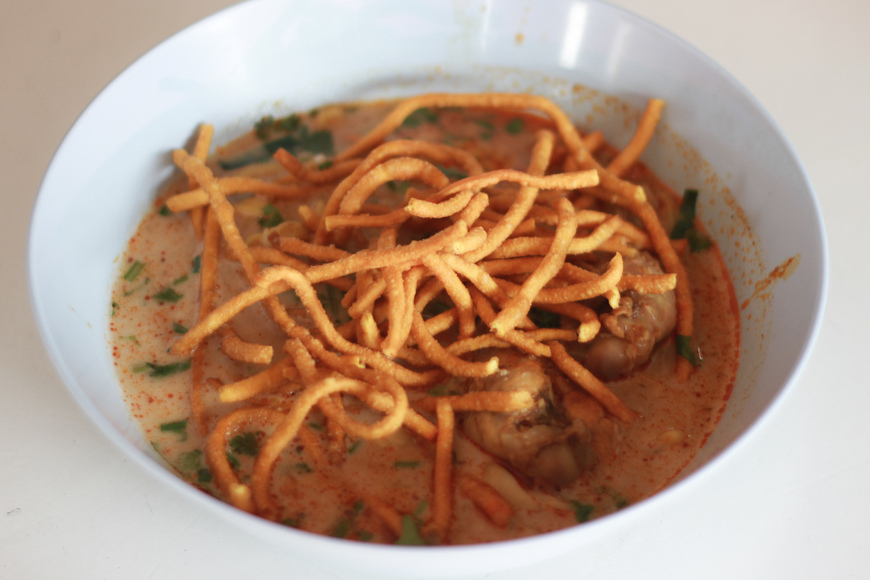 Bowl of Khao Soi at Khao Soi Samer Jai
On a quiet street corner, this fairly big local-style restaurant are most known for their khao soi but they have a lot of options on their menu. Apparently they've been going for over 30 years and that's given them time to perfect their fantastic khao soi.
The dark brown sauce has real depth, is meaty and has a nice background heat and the pieces of chopped coriander add flavour and texture. The fried noodles are crispy but softened quickly. The fresh noodles were nice but there weren't enough. The chicken meat was only ok and wasn't needed. The bowl cost 40 baht but possibly isn't going to fill you up.
The slight negatives are massively out-weighed by the superb flavour, making it one of my favourites. Highly recommended, but it's a little out of the way.
Read more about Khao Soi Samer Jai...
---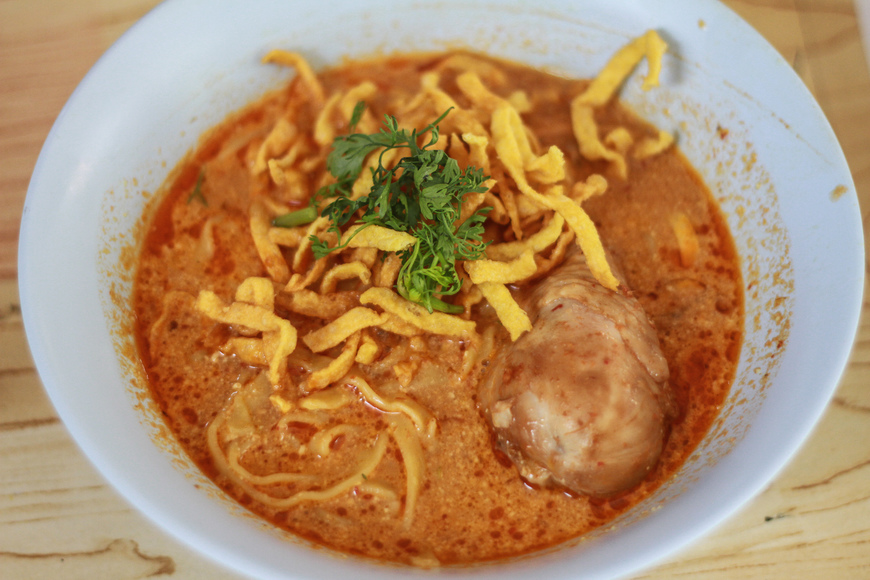 Bowl of Khao Soi at Mae Sai
This is a place that almost makes it on to lists of the best khao soi in Chiang Mai and it's featured in popular Youtube food shows, so I had high hopes.
There's a nice bit of spice to the sauce, the fresh noodles are great and the flavour and balance reminded me a lot of Khao Soi Nimman. A bowl costs 45B and you might want to order some of their satay to go with it.
Overall it was a really great bowl of khao soi but somehow less memorable than the two above.
Read more about Khao Soi Mae Sai...
---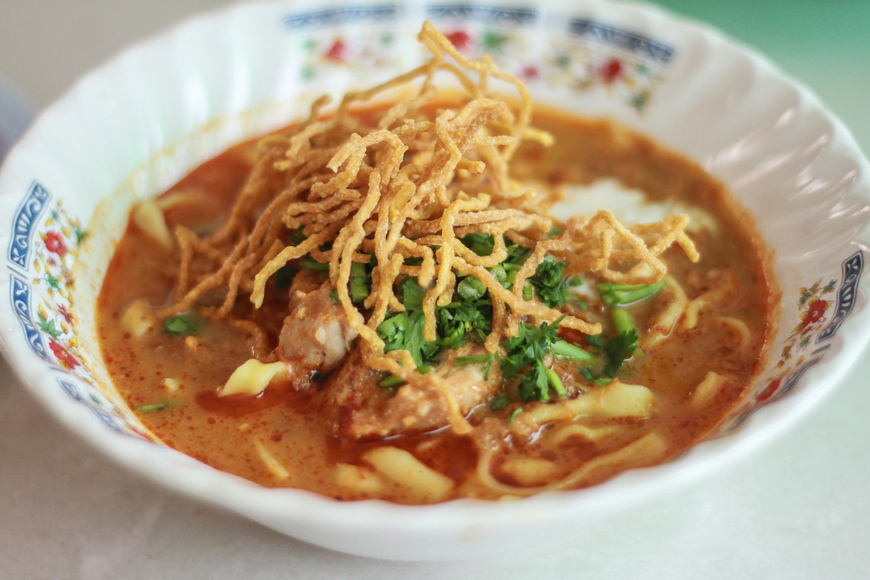 Bowl of Khao Soi at Khao Soi Khun Yai
This is another place that is very famous and turns up on a lot of lists, claiming its the best khao soi. I had been a couple of times before and tried the pork and beef versions, which were really interesting, but there's no place for that in this "purist" chicken list.
The curry sauce is spicy and they add some dark "sweet sauce" (according to the owner) and some coconut cream on top. The sauce is great but at the very end it was thick and a bit grainy. The chicken is served off the bone, which is the only one on this list to do so. The fried noodles were noticeably very thin and crispy.
Overall it's definitely a good bowl of khao soi for only 40 baht in an interesting (covered) outdoor setting close to the North Gate.
Read more about Khao Soi Khun Yai...
---
Bowl of Khao Soi at an unnamed street restaurant
Unlike all the other versions on this list, this restaurant is pretty much unknown. I couldn't find anything online about it other than one blog post (which is how I found it) from a couple who stumbled upon it. I couldn't find a name of the restaurant, despite asking the staff (who didn't speak English), some Thai customers (who spoke basic English) and I even showed photos of the restaurant signs to my guesthouse owner (who speaks perfect English). I have to assume that it doesn't have a name.
Anyway, the lack of name and online presence shouldn't stop you from seeking out this delicious khao soi. It seems to be quite popular with local Thais and I can understand why. It's probably the spiciest version on the list with a nice kick of chilli, so that might be a deal-breaker. My bowl had two small chicken legs which were very tender. The sauce is slightly lighter in colour, depth and thickness than some of the other local versions, but the spice level was higher. The noodles (fresh and fried) were great and standard for a local place, in a good way.
It cost only 30 baht, which is the cheapest I've ever seen it. The whole experience felt very Thai, authentic and local, with a price and spice level to match. If that's what you're looking for, then you should definitely give this place a go. Use the link below for the exact map location.
Read more about this local Khao Soi restaurant...
---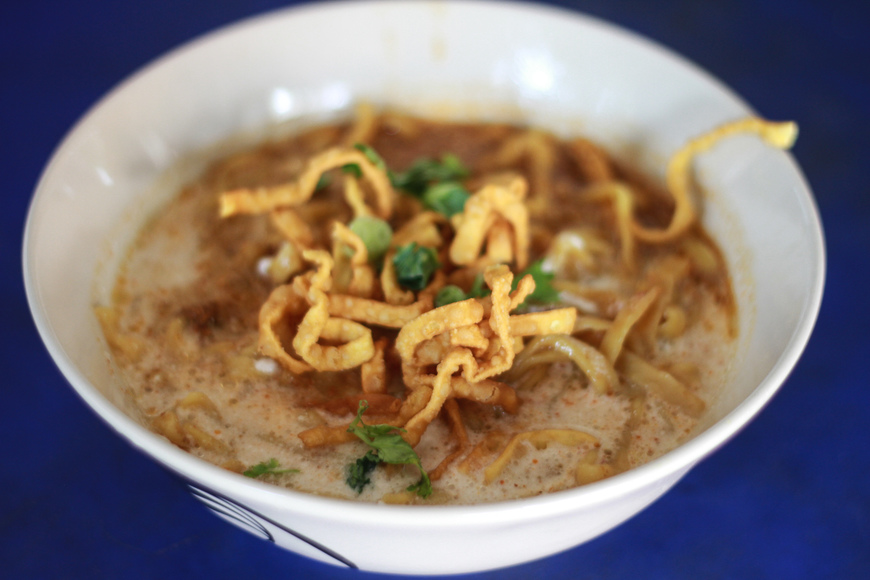 Bowl of Khao Soi at Khao Soi Lam Duan Fa Ham
This place is on the same road as Khao Soi Samer Jai and has a similar local feel, although I read that it's been open for more than 75 years which is very impressive. I had a bowl straight after my visit to Samer Jai and the differences were very noticable. There were much more fresh noodles but this time, there weren't enough fried noodles (although they did stay crispy for longer) and most importantly the flavour of the sauce wasn't as deep. They add some coconut cream to the dark sauce, which some people might love but I don't think the creaminess works as well.
They offer versions with chicken, pork, beef and spareribs. The chicken version was 50 baht.
Read more about Khao Soi Lam Duan Fa Ham...
---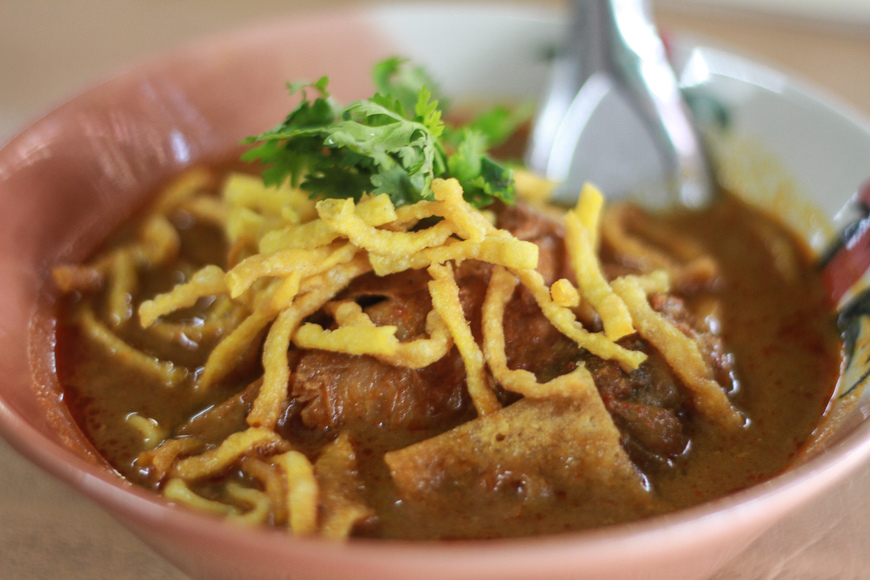 Bowl of Khao Soi at Huen Phen
Although this restaurant is also open in the evenings (and is one of my favourite spots for Northern Thai food), they only serve khao soi for lunch in a more casual area of the restaurant to their upmarket evening setting.
The sauce seemed more like an Indian curry than other versions and it had a grainy thickness to it, but I wasn't sure if that was because I arrived at the end of the lunch service and maybe I got the bottom of the pot.
The chicken was pretty good but nothing special. The fresh noodles were a good standard although there weren't enough fresh or fried noodles given the size of the whole thing and the 60 baht price.
Overall it was tasty but not up to the standards of some of the others on the list.