Vietnam

Travel Guide by Chris Ward
Vietnam is a wonderful country with some of the most generous and friendly people I've met. The people and food will keep me coming back here.
It's a big country and I feel I barely scratched the surface during my first four-week trip, so I came back a few months later with a three month visa. There are a handful of places on the tourist trail (all are covered below) but there are huge areas of the country that are totally untouched by tourism. Even many of the popular areas mostly resist western food unlike Thailand and other countries in S.E. Asia. Who needs burgers and pizzas when the Vietnamese food is so diverse, delicious, cheap and relatively unknown?
access_time I spent a total of 4 months in Vietnam during 2015..
restaurant I have made a separate Vietnamese food guide as a lot of my time in Vietnam was spent researching and learning about the amazing dishes and finding the best food in Vietnam.
attach_money This guide is based on my budget and the research I've done. I'm not suggesting the hotels are the best, I only need simple guesthouses. There are much nicer hotels available and there are also cheap dorms (though not everywhere). I clearly focus on the local food lots, so if you don't care about the food then most of the guide won't be of interest. Hopefully everyone will find at least a few things useful though!
flight Visa
Perhaps the biggest negative of Vietnam is the stupid visa process. It's especially frustrating for a traveller like me who likes to be flexible with my plans. You have to decide your entry date at the point of applying for your visa. If you enter the country after that date then your 30 days (or whatever visa you get) will be cut short accordingly. It's also the most expensive tourist visa I've ever had.
Your options are:
Visa exemption: Various countries are allowed to enter Vietnam for a limited number of days for free. The rules change so make sure you check the official websites. At the time of writing, British citizens are allowed 15 days. You'll be asked to prove you have an outbound flight - an online confirmation email will do.
Go to an embassy: This obviously requires you to be in a city with a Vietnamese embassy. It takes anywhere between a day and five days, I think. The price usually depends on how quickly you need it. Standard price seems to be over $65 USD. Weirdly, being organised and doing this when you're in your home country seems to be a very good way of wasting a lot of money. I've heard that it costs well over $100. Note that they keep your passport during the processing time.
Go through a tour/travel agency: If you're not in a city with an embassy, agencies can send your passport off to an embassy. I think it costs a little more but not entirely sure.
Online visa on arrival: This is the option I went for and most people I know have done. I used myvietnamvisa.com and although these sites aren't strictly official, they are well-known and I haven't heard of any issues. You pay $20 (for a one month visa) to the website in return for a 'letter of approval' which they send you in 2-3 working days. You will have to print out the letter (along with another form - the instructions are very easy) and hand it in when you arrive at the airport (this option isn't possible over land) along with passport photos, your passport and $45. Make sure you have the US Dollars with you as it will make life much easier. You will have to wait while they process your visa. It took about an hour for me the first time and then only 10 minutes on my second visit but it totally depends how many other people there are doing the same. The whole process is backwards but in my opinion it's much better (and usually cheaper) than the other options.
person People
As I mentioned in the introduction, the Vietnamese people are some of the nicest I've met. They sometimes have a bad reputation amongst travellers but I think you'd have to be very unlucky to leave the country with any negative feelings. One example would be when I was in the north of Phú Quốc, lying in a hammock in an area with no one around. Two young Vietnamese guys arrived with a watermelon and called me over to join them. We sat for about an hour, talking (mainly with the help of Google Translate), drinking beer and eating their watermelon. They were so friendly and even paid for my beer (without me knowing). I've also had meals and drinks bought for me. These acts of friendship and kindness were quite regular.
The younger generations are particularly generous and will go out of their way to show you around, especially in places like Saigon. Some of my best experiences in Vietnam were with locals in Saigon actually. I recommend taking time to make friends away from the backpacker/tourist crowd.
attach_money Money
Vietnamese Dong (VND) is the main currency. US Dollars are accepted in lots of places but only do this as a last resort. Lots of tourist prices (such as hotel rooms and activities but not really for food) are listed in USD, which can be very annoying as the exchange rates will vary when you then go to pay in Dong. So when negotiating a price for a room, it's probably best to do it in Dong.
Outside of the big cities, it can be difficult getting large sum of cash from an ATM and each time you will be charged a hefty fee. So if you find a good ATM (I think there are some in Saigon with free withdrawals), make the most of them and gets as much out as you're comfortable with.
$1 is approximately 20,000 dong. Actually it's just over that but 20,000 is the standard rate used by most people.
When I stayed for a month in Saigon I spent less than 400,000d ($20) per day for everything. This includes a private room with A/C (200,000d), scooter rental (35,000d if renting for a while), fuel (10,000d), meals (100,000d), coffee (30,000d), snacks (20,000d) and bottled water (10,000d).
record_voice_over Language
One of the many reasons I love Vietnam is that their use of the Latin alphabetic script (the dominant writing system for about 100 years) means you can at least attempt to learn some words. My food-based vocabulary was pretty high by the end, which was very useful for the many many places without an English menu and no English-speaking staff.
Although the language is based on the same alphabet as our, they have lots of accents on the letters and the language is very tonal. This makes speaking the language pretty difficult. The most commonly mispronounced word by foreigners is Phở. It's said a bit like "fur" but prolonged and definitely not "foe". Whilst expanding my Vietnamese vocabulary, I opted to ignore the accents on the letters and just memorise the plain letters. This made it easier to learn but then there is the possibility of mixing up words. For example I walked passed a restaurant with "Phô" in the name and I said to my Vietnamese friend "Fuur!" and he said "That is foe, not fuur!" which totally confused me as I knew my pronunciation of the noodle soup dish was fine. It turns out "Phô" means city and the restaurant was called something like "Noodle City". The difference between Phô (city) and Phở (noodle soup) is very subtle for us stupid foreigners. So most tourists are actually asking for "city" for lunch.
shopping_basket Fruit
The produce in Vietnam is relatively cheap and very delicious, especially from the many markets. I'm going to assume you know what a mango and pineapple is and just list ones you may not have seen or tasted.
Durian
I'm starting with the king of fruits. Famous for its smell and hated by most tourists, I actually love it and eat it quite regularly. You should at least try it once and I recommend trying it as an ice cream flavour as it's more palatable.
Rambutan
Closely related to lychees but I think I prefer them and they're easier to peel. Yum yum!
Mangosteen
Nothing like a mango. They're very sweet and delicious!
Star Apple
A similar outside colour (a mixture of red and green) as normal apples but larger, more spherical and shiny. The inside is very milky and fleshy, not too different from custard apples.
Longan
Very similar to lychee but probably more common in S.E. Asia.
Persimmon
Must be very ripe to be tasty. They're sweet, kind of like a cross between a mango and tomato.
Custard Apple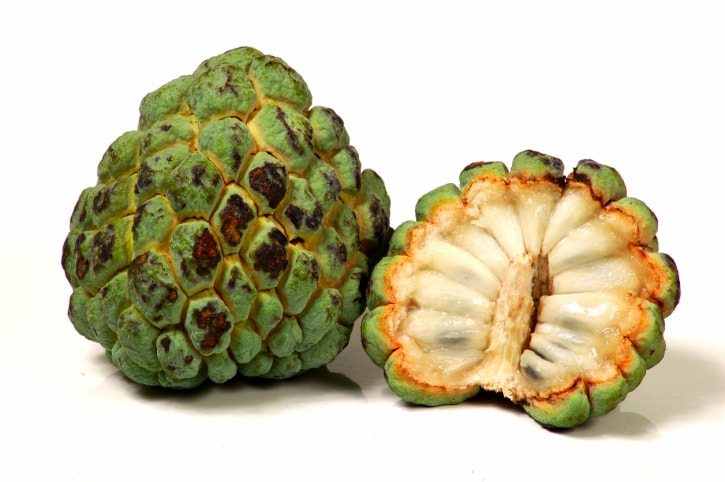 I used to buy these back home from an Asian supermarket. It's definitely one of my favourites. A custard-like flesh inside with fairly large seeds.
Sapodilla
Like a pear with brown sugar!
Jackfruit
Similar looking to a durian on the outside but far larger. Apparently totally unrelated to durian but I've always thought the taste is sort of like a cross between durian and orange. I really love jackfruit and find it hard to resist buying when I see it for sale.
Dragon fruit
A very subtle flavour but eaten regularly all over S.E. Asia. It comes in two flavours: white-fleshed and red-fleshed.
Pomelo
Like a sweeter version of a grapefruit.
Rose apple
I find it pretty boring. It's very watery and the ones I've had didn't have much flavour.
Papaya
I'm sure you don't what a papaya is. Not sure why I've included it!
Buddha's Hand
Don't eat it, it's for decoration. I'd never seen it until I was in Hanoi where it seems to be sold on every street.
local_bar Drinks
Local draught beer (Bia Saigon and Bia Hơi) tends to be 4,000 - 10,000 dong when available. That's damn cheap!
The drinking culture amongst the locals varied across the country but it was actually quite rare to see young people out drinking alcohol. There are areas where it's popular to go out late to drink coffee and tea with friends. You will find pockets of older men drinking lots of cheap beer and getting a bit rowdy, especially in Hanoi.
"Bia Hơi" refers to the type of cheap beer but also the type of street bar where it is served (mostly around Hanoi). It's usually served in a particular type of beer glass made in one town.
Tourist areas cater to the drinking needs of their clientele. In Saigon's District 1, the streets are lined with rows of tiny seats all facing the road, all meant for beer-drinking tourists.
There is Vietnamese wine. I tried some from Da Lat and didn't like it but you might find some that's nice! It was ridiculously cheap.
Iced green tea ("trà đá") is regularly served for either very cheap (a few thousand dong) or free (especially in coffee shops). It's a good option to help you cool down and rehydrate.
Vietnam is famous for its coffee ("cà phê"), due to the influence of the former French colonists. I drank it almost every day. As the weather got colder towards the north, I loved having a hot coffee but in the south I usually needed it to be iced. The coffee is very strong and the standard way is to be given a cup with a small metal pot sitting on top, filtering into the cup. Usually sweetened condensed milk is put in the cup beforehand in place of fresh milk (which isn't readily available) and sugar, however I prefer my coffee back with no sugar. In Hanoi there is a famous "egg coffee" which is very sweet and delicious!
directions_car Roads & Travel
Taxis, GrabTaxi and Uber
Unless you're staying for a long time, the cheapest way to get around the cities is GrabTaxi and Uber (using promo code uberFreeRidePG), or more specifically GrabBike and Uber Moto. Use the respective apps to send for a scooter - it's much cheaper and faster than a car. Rides will typically cost between 10,000d and 20,000d. Renting your own scooter will probably cost 70,000 - 150,000d per day, so that's a lot of journeys to make it worth renting one! It's safer than it looks too.
Buying a motorbike
It's extremely common for travellers to buy a motorbike in Vietnam and sell it before leaving. Bikes tend to cost between $150 and $300. Most either go from Hanoi to Saigon or vice-versa so those are the best places to buy and sell. Allow enough time to sell without desperately selling for a loss.
Renting a scooter
Scooter rental can be very cheap especially if you're staying in one place for a while. I got an automatic scooter for 1,000,000d ($45) for 4 weeks in Saigon. Renting between two towns is possible in some places but the cost increases significantly. I usually recommend having a scooter while you're in one of the cities as it allows you to explore freely, but if you're visiting for less than a month and there's a cheap taxi service (see above) then renting doesn't really make sense.
Parking
In Saigon, there is always motorbike parking for restaurants, cafes and bars. There is usually an attendant waiting outside to direct you and you will most likely be given a little ticket. It will either be free ("giữ xe miễn phí") or 5,000d.
Helmets
Amazingly, helmets are a legal requirement and it's actually enforced so almost everyone wears one (which is very rare for Asia).
Trains
There's a train line that connects the north and south. It's safe, easy and I highly recommend it as a way of getting around the country. Even my worst experience on the train was better than a bus journey. I've been on multiple trains up and down the country, including a few overnight sleeper trains and had a good night's sleep (although it can get cold with the A/C). You can book directly at the train station or online. The official website is DSVN.vn but it's all in Vietnamese and you can't use international credit cards, so I used Baolau which is really easy to use and only charge a small fee. Seat61 has some useful info.
Local buses
I had good experiences with the local buses. Very cheap and seemed perfectly safe. Also more fun than a boring taxi. It helps if you have Google Maps (either pre-loaded or even better if you have 3G) for making sure you get off at the right stop.
Crossing the road
Please look at the separate Surviving Saigon guide. Basically just walk out slowly and the scooters will flow around you.
Joining from side roads
As I said in the People section, there is a (probably unwritten) rule that it is up to the drivers on the main road to watch out for vehicles (usually scooters) joining from a side road. The joining traffic pulls out and doesn't look first. Vehicles on the main road are meant to beep their horn to let the joining traffic know that they're there and then, if possible move over to give them space. In every other country I've driven in, it's the responsibility of the joining vehicle to check.
Night buses
I generally hate night buses and sometimes you just have to do it. In Vietnam the 'bed' is so small that it's impossible for me to get comfortable. Winding roads and beeping also make it difficult to sleep. I highly recommend having some pills on you to help you sleep. I've done many night buses with and many without the aid of sleeping pills and I know which I prefer!
Internal flights
These can be extremely cheap, especially if you plan ahead and book early with Jetstar. I got a night bus down to Phu Quoc from Saigon and then flew back which was a hundred times better. Sorry, environment.
build Services
Laundry
It should be easy enough to get your laundry done at your guesthouse or hostel. Expect to pay around 15,000d per kg.
event Events
Tết (Vietnamese new year)
Usually around the end of January or early February (it's 8th February in 2016), the country somewhat shuts down for a few days. It's not generally a party festival which you can join in, instead the Vietnamese tend to celebrate at home for a few days (which is why businesses shut down). Beware that getting a visa from an embassy during this time might not be possible. Friends of mine had to wait over a week while in Laos before they were able to get a visa for Vietnam.
National Day / Independence Day
Held on 2nd September to commemorate the Declaration of Independence from France in 1945. It's a national holiday and some people will return to their home town but apparently it's not a big celebration and you might not even notice anything different.
Buôn Ma Thuột //Capital of the Central Highlands
This is a fairly big city of around 300,000 people, yet I didn't see a single sign of tourism or any other westerners. However, Buôn Ma Thuột summed up what I love about Vietnam. The people were lovely (once they'd stopped pointing and staring at me), the food was incredible and it was a city full of energy (Vietnamese energy, not tourism).
hotel Accommodation
Nguyễn Dan
This hotel was included in the Easy Riders tour. It was nice but no idea how much it would be normally but I imagine it's reasonable.
local_see Sights & Activities
Night market
No foreign tourists. We got pointed at lots. Was quite fun.
Da Lat //Canyoning and other fun
Da Lat (or Dalat) is a lovely little place which I found difficult to leave. Like many of my favourite places around S.E. Asia, there's nothing obvious to explain why I liked it but it was more to do with the feel of the place along with the people (both locals and fellow travellers) and a few activities.
hotel Accommodation
star Dalat Backpackers Hostel And Tour Office
New in 2014, I think, it had come recommended to me by other travellers. When I was there, a lovely couple from near Brighton were working there. There's a welcome meal every evening for the guests who arrived that day. You all sit around in the reception area and get a mixture of dishes (though it wasn't enough food if you're hungry). It's a great way to meet people. There were about 12 new people when I arrived (more than normal) and we all signed up for the canyoning together. There's also a great rooftop area (which has been improved since I was there) where you have your free breakfast and everyone tends to hang out and drink at night. My room was massive and was $9 per night. There are dorms too (which I slept in when I arrived at 5am after a night bus).
local_bar Nightlife & Cafes
Hostel drinking
As mentioned above, most of the nightlife I experienced happened at my hostel, or at least started there. I imagine it's the same for other hostels in the town too.
The Escape Bar
One night everyone from the hostel went to this jazz bar for a night out. The band were fun, the American owner was a bit weird and the drinks were massively overpriced. It was a fun night though!
local_see Sights & Activities
star Canyoning
The best $20 you'll spend in Vietnam! A full day of abseiling down waterfalls, cliff jumps and other amazing activities. I booked mine through my guesthouse and did it with a big group all staying there. It's very well known around town, you'll find it easy to book wherever you're staying. Bring appropriate clothing and footwear as well as a GoPro if you have one!
star Easy Rider tours
There are loads of companies in Da Lat calling themselves Easy Rider(s) so try to do some research to make sure they're good. I did mine with Dalat Backpackers. It's expensive ($70 per day for the motorbikes, guide and accommodation) but totally worth the amazing experience. I did a three day tour from Da Lat to Buôn Ma Thuột and finishing in Nha Trang. I had planned to buy a bike and do it myself but ran out of time in the end. Having a guide is so valuable, he took us to places I'd never have known about. You get to ride a proper manual motorbike rather than a scooter and the guide carries your bag. If you're not comfortable riding yourself then you can go on the back of the guide's bike. Highly recommended if you can afford it!
Cable Car
Quite a nice thing to do but definitely not essential.
Weasel coffee plantation
Picturesque plantation with tasty coffee that's been pooped out by weasels (which you can see).
Day trip on scooters
You can do a nice route that takes you to the coffee plantation, silkworm farm and waterfalls. Especially good in a group. A huge portion of the road is brand new.
Silk Weaving Factory
Surprisingly interesting!
Elephant waterfall
Pretty waterfalls just a few minutes from the Silkworms.
Crazy House
The very strange Hằng Nga Guesthouse is open to the public (for a small fee) during the day. In 2009 it was listed by a newspaper as one of the world's ten most "bizarre" buildings. It's like a cross between Gaudí and something from Disneyland, but weirder. There are staircases going all over the place.
Dalat Market
In the centre of the town is a large indoor market for cheap clothes. At night there are lots of food stalls outside.
Da Nang //Seafood and beaches
I didn't spend long in Da Nang but it's known for good food (especially seafood) and is a perfect spot to base yourself for the Hai Van Pass. It's only a short drive from Hội An and you can get a cheap bus there but be warned, they will try to overcharge you for the bus - it should be 20,000d but they will lie to you and even some of the locals might join in the lie, but don't budge!
I arrived by train late at night with a friend and we found it difficult to get a cheap guesthouse. We ended up giving in and paying more than we usually do. There are still deals to be found but it seems like the prices are higher than other areas.
local_see Sights & Activities
Marble Mountains
They're quite interesting but don't bother walking up the main one, there's nothing much to see up there. They're best viewed from the ground. Don't go out of your way to see them though, they're not that great!
star Hải Vân Pass
Absolutely one of the highlights of my travels. Made famous in the western world by Top Gear's Vietnam special, it's a mountain pass with stunning views. We hired scooters in Hội An and drove to Huế via the Hai Van Pass in one day, then drove back the next day. The pass is often very misty (it's name means 'ocean of clouds'), which means you miss out on the jaw-dropping views but it gives it a great eerie feeling. We were very lucky that we got bright blue skies on the way and mist on the way back. We loved every minute! Out of the things to see along the way (look up some itineraries), Elephant Springs was a let down and Marble Mountains were ok. If I did it again, I'd allow more time and take it slower.
Halong Bay //The famous photo spot
I'm sure you've seen photos of Halong Bay's beautiful waters dotted with small islands.
When you're in Hanoi there are lots of organised tours to take you to Halong Bay. I paid extra and went for a luxury option (Cristina Cruise) to spoil myself. I paid $175 which included the bus from my hotel to the boat and then 2 full days with 1 night on the boat with my own double room with a balcony. It was probably the nicest room and bed I've had all year. It was more expensive because I wasn't sharing with anyone and you can get overnight tours for about half that amount but apparently you get what you pay for.
The tour included some caves, kayaking, visiting some islands, an oyster farm and all meals. It was a really great two days and I made some lovely friends but as with all organised tours, it can be a bit frustrating. Some of the group had paid for a second night on an island which sounded great. If you have time, I'd probably make the most of it by doing both nights.
If the weather is really bad (especially visibility) then it will definitely impact your enjoyment.
Hanoi //The northern capital
The north of Vietnam has two main seasons: cold/dry and warm/wet. During my first visit in February, I was unlucky enough to be in the cold season but with the added bonus of rain. It really was cold. I had to buy more clothes and could barely sleep the first night (I then moved hotels and got two heaters). As a result, I left sooner than planned. However, I went back for over two weeks in November and absolutely loved it!
The north/south divide is really noticeable and there are lots of differences between Hanoi and Saigon. I first noticed the street drinking and crazier roads (despite having less traffic less Saigon), but the culture, history, people, food and even language are all fairly unique here.
Most tourists stay in the Old Quarter which is a nice area packed with bars and restaurants. There's a massive weekend market which you can't really miss. Most of the popular restaurants in the Old Quarter are westernised (flavour and price) but there are some gems to be found still.
Hội An //Swift tailors and relaxed fun
Most famous for their hundreds of tailors, it's a very cute, relaxing town. You could easily spend a week here. It's very touristy (including Vietnamese tourists) and I found the food to be fairly average but you can't help but like it. I've been twice now.
hotel Accommodation
star Nam Ngai Hotel
One of the best budget rooms I've had in Vietnam. It was 200,000d per night and I got a large bed, fridge, great A/C, powerful fan, fast wifi, flatscreen TV. Definitely recommend it!
Khách Sạn Minh Quang
I shared a twin room with a friend for 200,000d per night between us. It was a nice enough room and a great price but Nam Ngai Hotel over the road is definitely better (the single rooms are both 200,000d but this place is cheaper for twin rooms).
local_see Sights & Activities
Tailors
There are hundreds of tailors in the town! I got two shirts, one short-sleeved and one long-sleeved, made for a total of £23. I got to choose the material and style, they measured me and they were ready later that same day!
Floating lanterns
When there's a full moon they celebrate by having a mini festival where they put candles in floating lanterns and send them down the river. We hired a boat to go down the river between the lanterns. It was gorgeous! I was lucky that I was there for full moon but I think they do it at other times too.
Water Coconut Village
Interesting village nearby. We did a tour which included a bike ride, a boat trip and cooking class. Whilst our tour was a bit of a let down, the area on the water and the local people were definitely worth seeing.
Huế //Imperial city
Probably most known now for the dish Bún bò Huế, it's meant to be great for food but I found it difficult to track down any really good local food. All the restaurants were for tourists and all served a similar menu. I'm sure great food exists there but it just wasn't as easy to find as other places.
Perhaps the biggest attraction in the Imperial Palace which is a nice way to spend an afternoon but I didn't think it was anything too special. It rained almost constantly during my stay but I still enjoyed my time here. However, if you're pushed for time, I think there are many better places to visit instead.
hotel Accommodation
Khách Sạn Minh Hiếu
220,000d per night for single room. Really nice room though!
local_bar Nightlife & Cafes
Brown Eyes
Urgh! It was pretty horrible in there. We only lasted a minute or two. It seems like it's the most popular club (or maybe the only one) in town. Only go if you're desperate and/or already very drunk.
local_see Sights & Activities
Royal Palace
Probably the biggest tourist site in Huế. We were pushed for time and pretty tired so probably didn't give it a chance but it wasn't anything special. It's also likely that I've seen so many old buildings that they have to be something very different to impress me.
Dong Ba market
Where Anthony Bourdain has Bun Bo Hue
Mekong Delta //Homestays and rivers
The Mekong Delta is a huge area of southern Vietnam. It's normal to do a homestay and visit floating markets. I might have missed something or gone to the wrong area but it wasn't as amazing as I'd been told. However it was a very nice area and perfect for relaxing.
hotel Accommodation
Ba Lình Homestay
A very relaxing place with nice rooms and even better common area with really comfortable hammocks. They have a free 'cooking class' every evening but it's essentially just doing a few basics to help out with one or two dishes for dinner. Still, it's fun and a nice way of meeting people.
local_see Sights & Activities
Cycling
Rent a bicycle and explore the villages and the surrounding areas.
Boat trips
There's water everywhere!
Mũi Né //A smaller Nha Trang
It seems to be the preferred option over Nha Trang for a lot of people, but when I was there it was like a ghost town of deserted run-down resorts. Definitely not worth visiting!
Nha Trang //Russian beach resort
I had been told by pretty much every traveller in Vietnam to avoid Nha Trang. Due to Russians getting a free 14-day visa and direct flights from Moscow, Nha Trang has become a Russian beach resort. Most restaurants have signs and menus in Russian instead of Vietnamese or English. Whilst I don't share their stereotypes, most travellers seem to dislike Russian holidaymakers, so they advised me to stay clear.
As it turned out, my three-day motorbike tour from Da Lat ended in Nha Trang so I had a few hours there. I was struck by how big the city is. I was expecting a small beach town but it's massive and very busy. Based on my limited time there, I imagine I could have happily spent a few days there but it felt far too touristy for my tastes and there are loads of other towns I'd rather spend my time.
This might not be very helpful but I thought it was still worth including.
Phú Quốc //The big island
Closer to Cambodia than Vietnam (Cambodia actually claims it belongs to them), this is by far the largest island in Vietnam and increasingly a popular destination for foreign tourists, especially ones looking for beach resorts. Compared to islands in Thailand, I don't think Phú Quốc has much to offer but I enjoyed my time there. I was surprised how many Vietnamese people live there and how busy the town is.
Phu Yen //Unexplored region
The Phu Yen region was a highlight for me. I'd not heard of it before a few of my Vietnamese friends recommended it to me.
We stayed in the main city of Tuy Hòa. One of my friends from Saigon put me in contact with two local girls who guided my friend and I around for a few days. They told us that they only see about one foreigner every month in the city. There was some fantastic food and lots of day trips to some beautiful sights.
We got up in the middle of the night and drive south to the most eastern point of Vietnam to watch the sunrise. It was totally worth it!
hotel Accommodation
Khách Sạn Việt Hương
Nice simple hotel with A/C, fridge, etc. We got a twin room for 180,000d.
local_see Sights & Activities
Saigon / Ho Chi Minh City //The biggest city
Its official name is Ho Chi Minh (renamed in 1976) but all locals I spoke to still call it Saigon, so that's what I call it. It's a huge, extremely hectic, polluted city but I loved it! There is so much going on and once you leave District 1, you're surrounded by culture and fantastic food. Saigon has a population of about 13 million, almost twice the population of the capital Hanoi. The streets are filled with a constant stream of scooters.
When I arrived to the airport, I opted for the local bus to District 1 which only cost 5,000d ($0.25) and was probably only a little slower than an expensive taxi. I was the only foreigner on the bus and one local even paid for my fare (until I sorted out my money and repaid him). I've got local buses in Saigon multiple times and I recommend them over taxis. They're much more adventurous (without being stressful) and only a fraction of the price.
The organisers of 'Talking with the Tourist' (see below) have created an amazing 'Surviving Saigon' booklet for tourists. They also have a Facebook group that's very useful if you spend more than a couple of days in Saigon. Saigon International Friends.
At the 'Talking with the Tourist' meet-up I met two Vietnamese girls who asked to take me around the city and took me to some amazing food places (all of which made it into my food guide) because I'd shown interested in the local cuisine. I got on the back of a scooter and we joined the masses of other bikes and headed out of District 1's tourist trap. The other districts are so much better but no tourists seem to visit them ever. I remember driving through District 10 and thinking I had to come back and stay there (which I did). It had such amazing energy. I highly recommended exploring the rest of the city.
After spending about a week in Saigon during my first trip, I decided to base myself here for two months when I returned. It was one of the best culinary experiences of my life. I highly recommend renting a scooter (it was one million dong for a month, which works out as about £1 per day), otherwise you will be stuck in one area. The roads are actually safer than you might think when you first arrive. I drove every day for two months and never felt in danger. I made lots of local friends and spent most of my time learning about the food and eating it!
Sapa (Sa Pa) //North-west mountains
Sapa (Sa Pa) is a small (but very popular) mountain town in the very north of Vietnam. The surroundings are stunningly beautiful and deserve at least a few days to be explored (by scooter and hiking). The weather is unpredictable and it can get very cold (including snow!) so be prepared.
Probably the main reason most tourists visit Sapa is for the multiple ethnic minority groups in the area. You can do hikes guides by some of the groups or just visit their villages. The groups have very distinctive traditional clothing and are mostly very friendly. They will try to get you to buy clothing and jewellery but they didn't seem to ever be forceful.
I got the overnight train from Hanoi to Lao Cai and then hired a scooter so that I could drive the short journey to Sapa. I loved the drive but the cost of the bike was significantly more than you can get in Sapa. You can easily get a bus from Lao Cai to Sapa or just skip the train and get a bus directly from Sapa (I just don't like the buses).