Bún thịt nướng is my favourite Vietnamese dish. To me it's an almost perfect dish due to its balance of flavours and textures. Salty, spicy, umami and a little sweet. Crispy, crunchy, meaty and soft. Simultaneously light and heavy. It's essentially a noodle salad with highly seasoned pork and Vietnamese flavours.
Despite it being a popular dish throughout Vietnam, most tourists have never heard of it, let alone tried it. This remains a mystery to me. Sure, phở is the most iconic Vietnamese dish and bánh mì is the most accessible to foreigners, but surely there's room for another dish for every visitor to try? One of the only places that bún thịt nướng isn't popular is Hanoi, where the vaguely related (but inferior, in my opinion) bún chả takes its place. However, bún chả is well known by tourists, because it is known as the Hanoi dish, whereas bún thịt nướng has less of a clear identity.
Unless you're at a tourist restaurant, bún thịt nướng will probably be the only thing on the menu so you can usually order by just saying the number of bowls you want. They will often have a few variations on the menu (such as one with just nem or just with spring rolls) but it's usually best to let them bring you their standard version and then you can easily order extra of any of the parts that are especially good (I often get extra nem).
On the table there will probably be mini bowls. Take one and add fish sauce and chilli (to your taste, but I recommend having at least some), mix it together and pour it over your bún thịt nướng. If the salad and herbs are provided separately then add some. Then mix it all together using chopsticks in one hand and a spoon in the other. Wash it down with a refreshing (and incredibly cheap) iced green tea (trà đá).
It should cost between 20,000 and 50,000 dong.
Standard ingredients

Cold vermicelli rice noodles (bún)
Grilled pork pieces (Usually labelled  "thịt"  or  "thịt nướng", meaning meat and grilled meat, respectively)
Pork spring rolls (chả giò)
Grilled pork sausage (nem)
Salad & herbs (usually cucumber, Vietnamese basil, lettuce, cooked spring onion, pickled carrot & daikon)
Vietnamese fish sauce (nước chấm - different to the strong fish sauce in Thailand)
"Mushy chilli" * (ớt xay)
Peanuts

---

* Mushy chilli (like mushy peas) is the best term I could think of in English as chopped, paste, sauce and crushed all seemed to imply something slightly different. It's vivid red, mashed up chillies which can sometimes be fermenting and bubbling away. They are definitely not dried chillies and neither are they fresh (like the fresh sliced chillies you get with phở). The photos below will give you a better idea of what I mean.
Although the direct translation of the dish is simply noodles with grilled meat, in practice it's a very specific dish. However, even in the relatively narrow definition of this dish, there's still enough variation to drive me on my continuing search for the best bún thịt nướng. Below is my attempt to analyse some of my favourite versions in Saigon...
---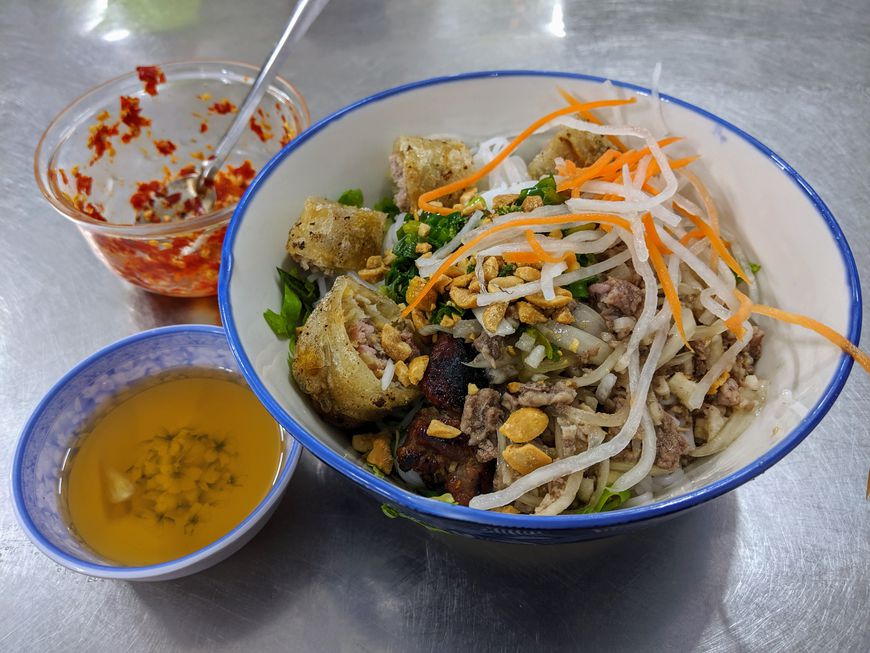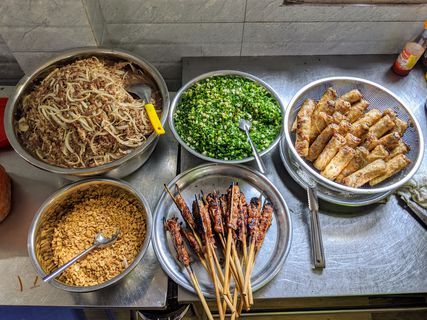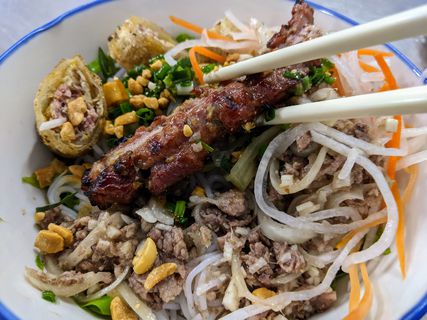 Bún thịt nướng at Chị Tuyền
This place has been around for years, although it has changed name slightly and moved a few doors along, but the recipe seems unchanged in the five years I've been a customer.
While their version is unmistakably still bún thịt nướng, it has one major difference to the normal recipe: it has minced beef! It's a great addition and I much prefer it to the usual grilled pork (not the nem, I love nem) as it mixes in with the noodles perfectly and adds a meatiness to every mouthful.
The other difference is that they use the thin flakey translucent rice paper to make their spring rolls, which is a big plus for me and is on my ultimate checklist.
Ask for a bowl with everything ("một tô đầy đủ") and an iced tea ("trà đá").
Summary

Location: 8.5/10

At the end of Co Giang, a popular street for food (a food market in the morning and street food at night), it's close to the main tourist area and only a few minutes from Kiều Bảo. Are you hungry enough to try both in one go?

Atmosphere: 8/10

Quite a few foodie tourists here but it hasn't spoilt it (although it may be partly responsible for the higher price).

Service: 8/10

The staff deal with the crowds well.

Bún noodles: 9/10

Nice large portion of fresh noodles.

Thịt nướng: 7.5/10

Their pork is quite firm, smokey and has a sticky sweet glaze.

Minced beef: 9/10

Adds a lovely meatiness and nice texture to every bite. The beef is cooked with onion.

Chả giò: 9/10

Epic flaky crispy tasty spring rolls using rice paper.

Chilli & fish sauce: 8/10

They bring you a single dish of fish sauce and chilli is on the table for you to add. You can ask for more fish sauce if you like, but I prefer it when you can help yourself. The chilli is fairly liquid (not Fairy Liquid) and fermenting but still very vivid red with some bite.

Salad: 8.5/10

All pre-cut and mixed in to the dish with a good ratio.

Price: 6/10

Expensive (46k) but worth it for the ingredients.

Ultimate Checklist: 4/5

See final section.

Overall: 8.1

Not necessarily the classic version, but it's not far off and the changes are all good ones in my view.
---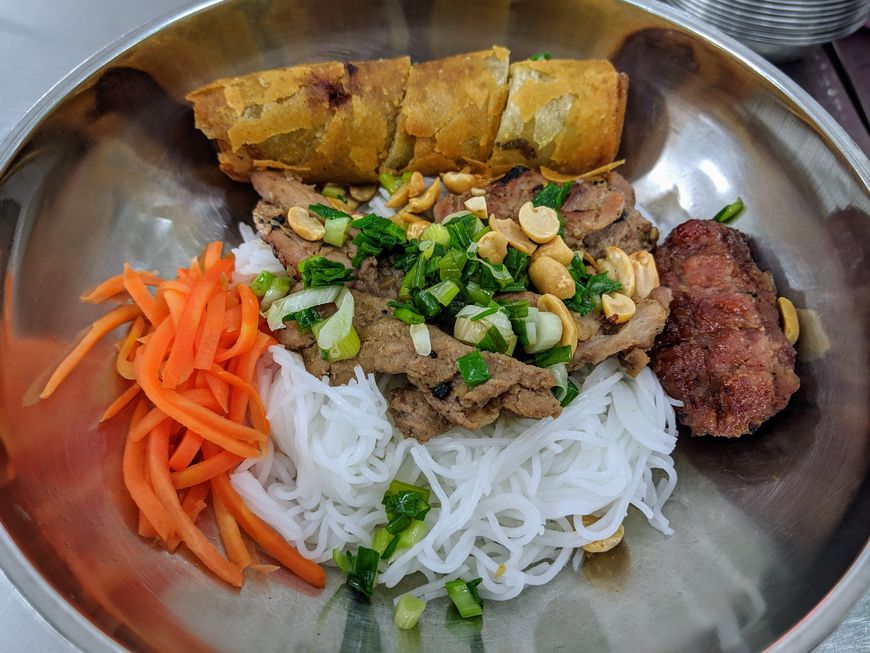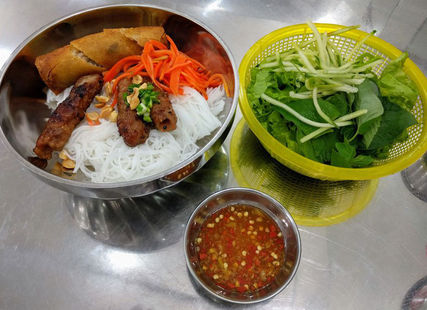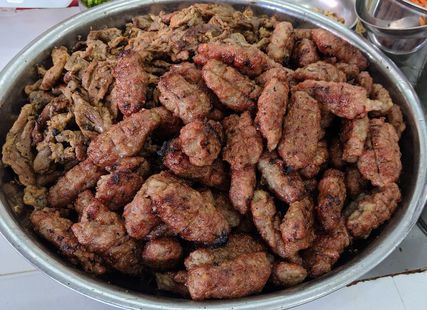 Bún thịt nướng at Kiều Bảo
There are a few Kiều Bảo branches dotted around Saigon, but one is handily in District 1, a very short walk from the main tourist area. It's quite a sterile place with metal tables and plastic stools. It seems to be permanently busy with locals, with the occasional food tour bringing a few tourists. While it doesn't tick all the boxes for me (see the section at the end of the article), it's a really great example of what seems to be the most common version of bún thịt nướng.
For 26k you can get the version with everything ("tô đầy đủ: thịt nướng + chả giò + nem" = "bowl with everything: grilled pork + spring rolls + pork sausage") or you can be selective. I always recommend trying the main offering first and then you can see what you like.
Each table has a metal bucket (yes, a bucket) of Vietnamese fish sauce with pieces of garlic floating in it and a pot of chilli. Your bowl of food arrives along with a basket of salad (lettuce, cucumber and basil). The cucumber is sliced thinly which is perfect for the dish but the lettuce and basil are quite unmanageable and while I like that you have the choice of how much to add, I much prefer when it's cut in to small pieces to mix in to the noodles.
The bowl comes with sliced (pickled?) carrot, spring onion (I think) and peanuts.
Unfortunately the staff sometimes fail to cope with the crowds and some of the ingredients can sell out, meaning you have to choose between having an inferior experience or coming back later.
Summary

Location: 9/10

Perfect for most tourists.

Atmosphere: 8/10

Lively and pretty representative of a lot of local "restaurants". Full of locals.

Service: 7.5/10

Sometimes you have to wait a while before you can get their attention but they're always nice.

Bún noodles: 9/10

Exactly how they should be. If I'm being very picky, the ratio is slightly off and I'd like a few more.

Nem: 8.5/10

Soft, meaty deliciousness. Order 1 or 2 extra!

Thịt nướng: 5/10

Pretty boring, if I'm honest. I prefer more nem instead.

Chả giò: 7/10

Good crunchy texture but they don't really add much to the taste.

Chilli & fish sauce: 9/10

The chilli is mashed and vivid red but not mushy or fermented. Fish sauce is great, especially with the added garlic. Both are self-serve.

Salad: 7.5/10

Fresh and plentiful but a bit unmanageable.

Price: 10/10

26k for a big serving in D1!

Ultimate Checklist: 3/5

See final section.

Overall: 7.9

This is my go-to place for the standard version. I keep going back and I love it!
---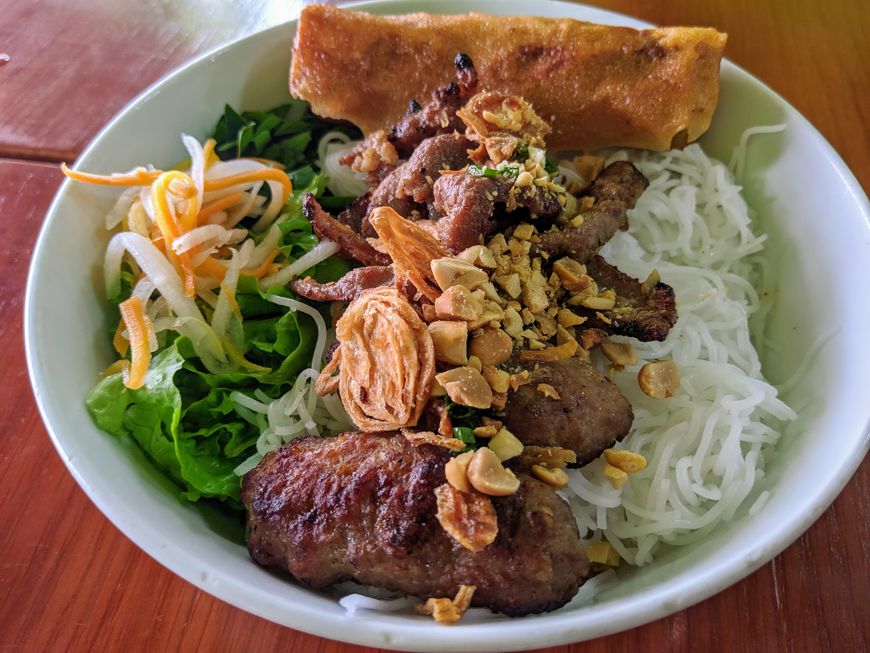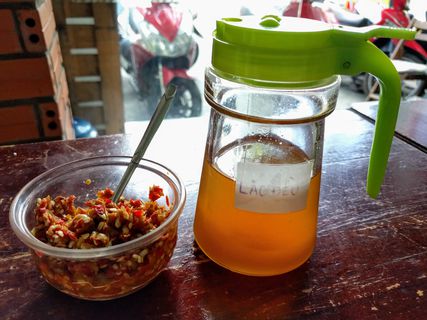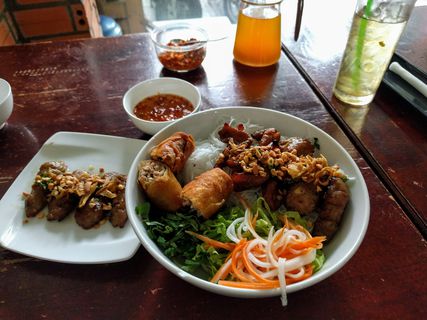 Bún thịt nướng at Vị Sài Gòn
When I first found Vị Sài Gòn, I thought I'd found the ultimate venue for my favourite dish. It was modern, relaxing, quiet, there was A/C and above all, they made an excellent bún thịt nướng! It was further out than other options, but it was worth the journey every so often. The presentation is precise and everything is cut for the perfect mouthful.
However they seem to have moved to a location which has no A/C and is noisy. The quality has suffered too, so I have to judge them on my latest visit.
Summary

Location: 6/10

A bit out of the way and in an area you're unlikely to be in for any other reason.

Atmosphere: 5/10

Quite boring, but the original location had A/C which was a bonus. The new location doesn't, however.

Service: 8/10

Nice staff.

Bún noodles: 8/10

Standard noodles, good ratio.

Nem: 8/10

When they are freshly cooked, they're excellent. The small sausages are cut down the middle. The texture and flavour is good enough to make you order an extra portion. But, I fear that you have to be lucky to get it freshly cooked, which is why I've marked it down a bit.

Thịt nướng: 7/10

One of the better examples of the grilled pork. In small manageable pieces with a nice flavour.

Chả giò: 6/10

Weirdly on my last visit, they didn't cut up the spring roll. I'm going to let them off and assume it was a mistake. But anyway the spring roll is a bit boring here but it's crispy.

Chilli & fish sauce: 9.5/10

Perfectly fermenting chilli (it's literally bubbling) and nice fish sauce, both in handy sizes on each table for self-service. Nailed it!

Salad: 9/10

Very neat and precise with a good ratio.

Price: 6/10

On the expensive side, due to the more modern take on the dish and the setting.

Ultimate Checklist: 3/5

See final section.

Overall: 7.1

A nice modern Instagram-ready version in a relaxing setting. However, the new location loses some of the benefits of their previous restaurant.
---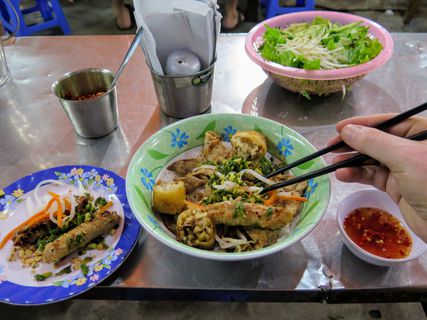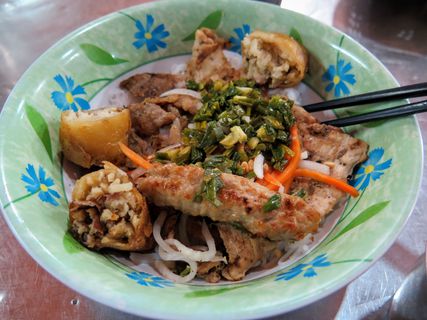 Bowl of bún thịt nướng at Hoàng Văn
This was the first place I ever tasted bún thịt nướng and I was in heaven. I rated it as my favourite place to eat in the whole country for a long time. I took friends and family there, recommended it to fellow travellers and it never disappointed.
However, it seems to have changed massively. The previous building has gone and now the small shop opposite (which always belonged to them) is used. The quality of the food on my most recent visit (November 2019) was such a fall from grace that I'm not sure if I'll ever go back. Maybe they were having a bad day or I was there at the wrong time of day, but for me to really recommend a place, especially one that requires a longer journey, it has to be consistent enough to pretty much guarantee it'll be great.
Unfortunately the scores below are based purely on my most recent visit rather than the numerous previous meals over the years.
Summary

Location: 4/10

Really quite far from anything.

Atmosphere: 5/10

The friendly big space has been replaced with a standard but unremarkable restaurant. There were a lot of flies.

Service: 9/10

The staff are always so friendly, even though they don't speak English. I'm always greeted with smiles and a bit of shock that a foreigner is at their restaurant.

Bún noodles: 6/10

A bit cloggy and stuck together.

Nem: 5/10

The nem they used to serve was at least 9/10 but this time they had small pork patties instead. I have a feeling they do serve their nem at other times but I have no real way of knowing, so I have to judge their patty instead which was very soft and tasty but the quality was a little suspect.

Thịt nướng: 6.5/10

Tastier than a lot of versions but still nothing to be excited about.

Chả giò: 5/10

Some crunch but no crispiness and very little flavour.

Chilli & fish sauce: 8/10

Chilli was vibrant and mashed up but not liquid/fermenting. Seemed to be pretty spicy. Self service fish sauce.

Salad: 7/10

A large basket of shredded cucumber and big leaves.

Price: 7.5/10

32k with free iced tea.

Ultimate Checklist: 1/5

See final section.

Overall: 5.9

I might eventually give it another go in the hope that they return to their heyday. But I'd suggest giving it a miss for now at least.
---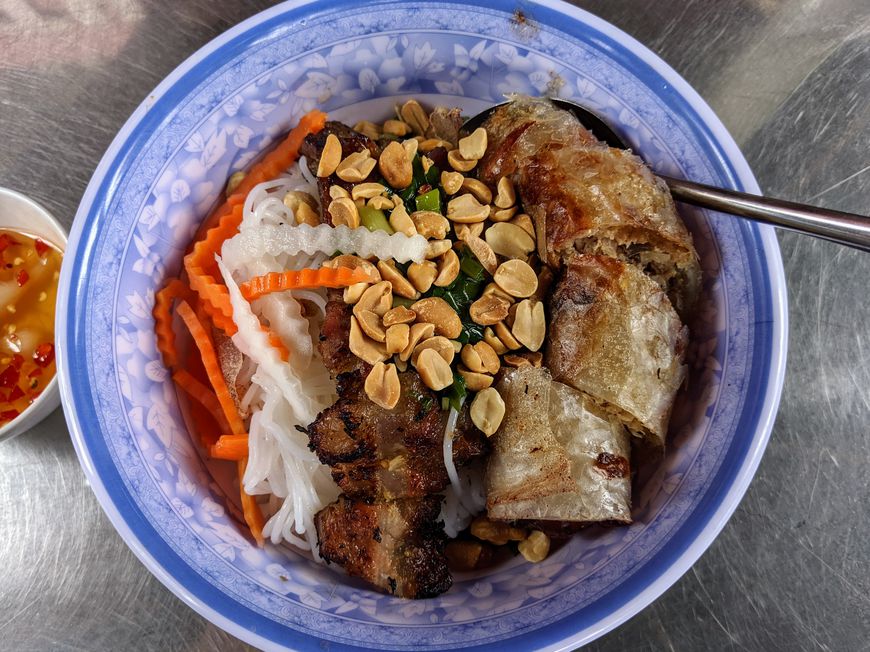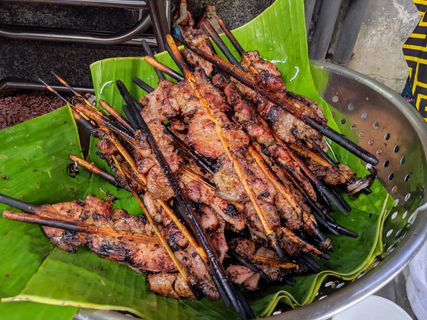 Bowl of bún thịt nướng at Nguyễn Trung Trực
This is the only venue on this list where I haven't been a regular. I recently read about it and thought I should give it a go. It's also the only one that's actually on the street.
Summary

Location: 8/10

Pretty central.

Atmosphere: 5/10

Tiny plastic stools on the side of the road, which isn't a problem for me, but it's also not worthy of a good score.

Service: 5/10

The lady was a bit aggressive when I was paying as she was shouting at me to pay for the wet towel I hadn't used. It's no big deal but it was a bit of a sour end.

Bún noodles: 5/10

A bit cloggy and stuck together. They need to get the basics right.

Nem: -/10

There was none. This should be counted as a negative as it's often my favourite part, but I'll let them off.

Thịt nướng: 4/10

The meat seemed to have been cooked a while ago so it wasn't hot and fresh. It was also very fatty and not in a good way. Maybe I was unlucky.

Chả giò: 10/10

One of the best I've had. I'll go back soon to check I wasn't dreaming. Flakey, crispy, full of meat and flavour. Worth a visit just for the spring rolls!

Chilli & fish sauce: 6/10

The fish sauce came pre-mixed with chilli which is unusual but it is a street vendor so I guess that's why. The level of chilli was perfect for me but I would have liked a little more fish sauce, especially as the bun noodles were a little cloggy so needed loosening.

Salad: 6.5/10

Limited but fine.

Price: 4/10

Not impressed with the price (46k) given it was on the street.

Ultimate Checklist: 2/5

See final section.

Overall: 5.8

It might be worth a visit just to try the spring rolls, but otherwise it was very disappointing, especially for the price.
---
Ultimate checklist
During the process of really analysing the dishes, I realised that I had formed an idea of the perfect version of the dish, according to my tastes.
Self-serve slightly fermenting red chilli & fish sauce
Noodles that are fresh and not sticking together
Highly seasoned, freshly cook (and still warm/hot) nem
Crispy spring rolls using the thin flakey translucent rice paper, filled with a good amount of seasoned pork.
Thinly sliced salad and herbs already in the bowl, ready to be mixed up.