I've visited countless times now. Possibly the best food experience I've had in Vietnam. Ever since eating here, I've been searching for the best Bún Thịt Nướng in Vietnam and so far, this still wins.
They don't speak English but they only serve one dish so you don't really need to even order.
How to eat
You need to make your own chilli sauce at the table using the supplied chilli paste and fish sauce. Then put it on the noodles along with some of the salad and then mix it all together (using chopsticks and a spoon). Be careful as the chilli is pretty hot but it definitely improves the dish.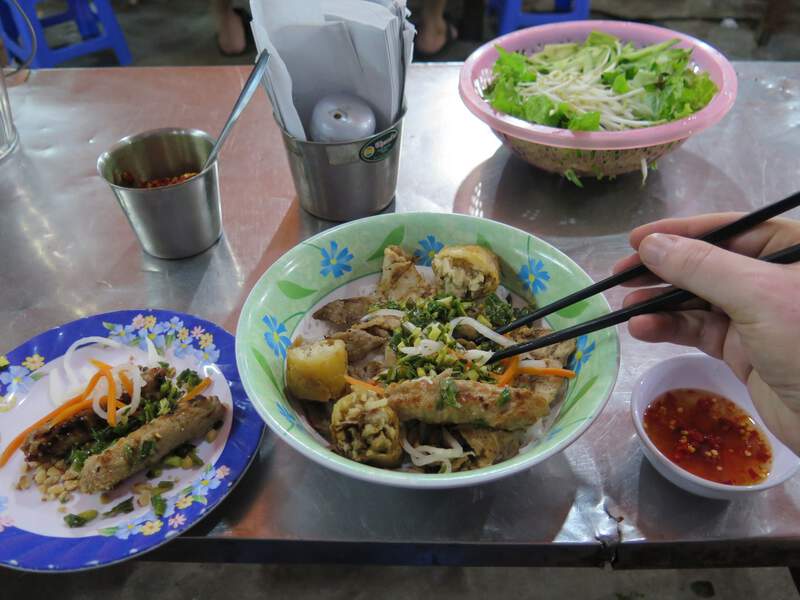 Price
It costs 25,000d with everything. I normally ask for an extra piece of the delicious kebab meat (+5,000d or sometimes free) which is usually shaped like a sausage (nem) but recently it was a small patty like bun cha.
Location
Make sure you find the right place as there are dog meat places on the same road. It's quite far from District 1 but it's definitely worth the effort and it should only cost about 25,000d each way with Uber Moto or GrabBike.
Summary
Not only is Bún Thịt Nướng my favourite Vietnamese dish but this is the best version I've had so far. It's a real local place which is busy and full of energy during peak times. Throughout all of my many visits, I've still never seen any other foreign customers, at least partly due to its location. Don't miss this amazing experience. Highly recommended!
---
Note: I recently visited at about 2pm on a weekend. On the plus side, it was quick to get there as it wasn't rush hour, but the restaurant was empty. That meant there was no atmosphere and I think the food suffered too - it wasn't being cooked to order (to deal with demand), so the meat didn't feel as fresh and the spring rolls weren't as crispy. So try to go in the evening, around 7-8pm.
---