I've been here many times now. I really love this traditional version of Chả Cá. It's a big portion but quite expensive at 120,000d (much more than most Vietnamese dishes). It's totally worth the money though, especially if you like fresh fish and dill. There are multiple parts to the restaurant, at numbers 19, 21 & 31 on the same side of the road and now they've opened across the road too. Highly recommended!
Cooked at your table
They only serve one dish, so all they really need to know is how many people are eating so they can adjust the portion size accordingly. They bring a portable gas cooker to your table and cook it right in front of you.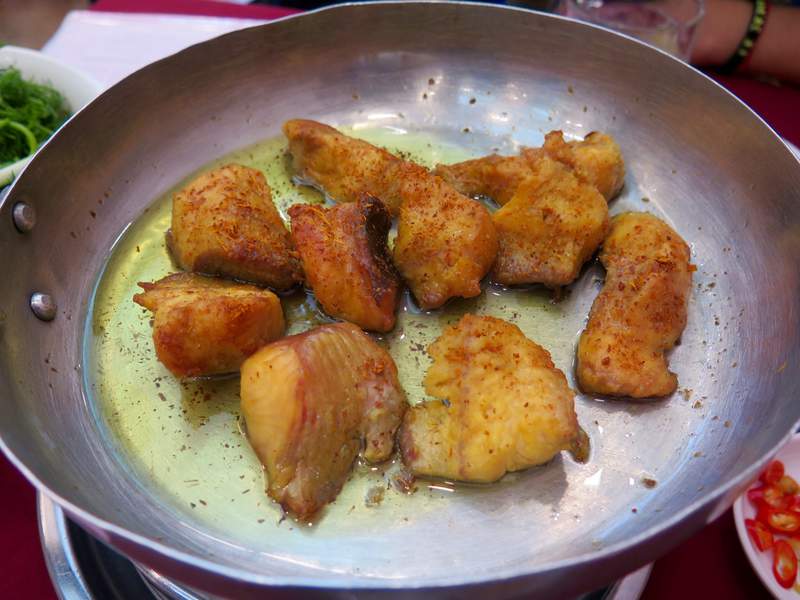 How to eat Chả Cá
Once cooked, they will make the first bowl for you, to show you what to do. You need to mix some chillies (depending on your taste) in to the fish sauce, then take some of the noodles in to the small bowl, mix in various leaves, peanuts and a piece of the fish, then pour over some of the fish sauce. Once eaten, you repeat the process.
Summary
Possibly one of the most expensive local dishes you'll find in Vietnam, but it's also one of the best. If you like tender fish, turmeric and dill, you'll absolutely love it!
---