Three Generations of Cendol
Celebrating 80 Years of Penang Road Famous Teochew Chendul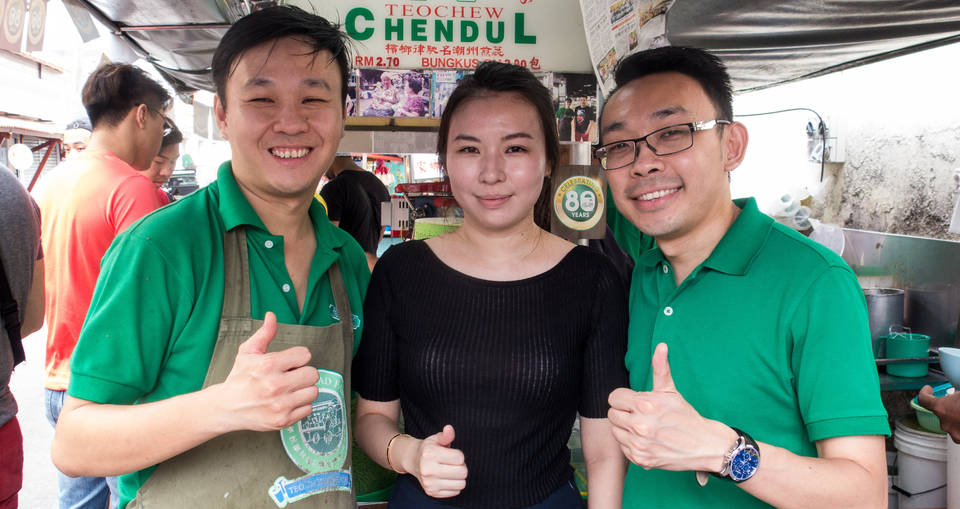 My first experience of Malaysia was a four-day visit to Penang having heard tales of food heaven. After just one meal, I regretted limiting myself to such a short stay. Nearly every street has world-class Malaysian, Chinese and Indian cuisine. From push carts to hawker centres to air-conditioned restaurants, the choice is almost overwhelming and there aren't enough meals in a day. The state-capital, Georgetown, is full of colonial buildings and street art, but domestic and international tourism is driven predominantly by hunger.
I read dozens of local food guides and they all featured "Penang Road Famous Teochew Chendul", an internationally famous stall selling cendol*. The company's official website describes it as a dessert of shaved ice with soft fresh pandan-flavoured palm flour noodles immersed in light coconut milk, sweetened by gula melaka (palm sugar) and kidney beans (which are apparently boiled for four hours). The name "cendol" actually refers to the noodles which are bright green due to the natural colouring from the pandan leaves.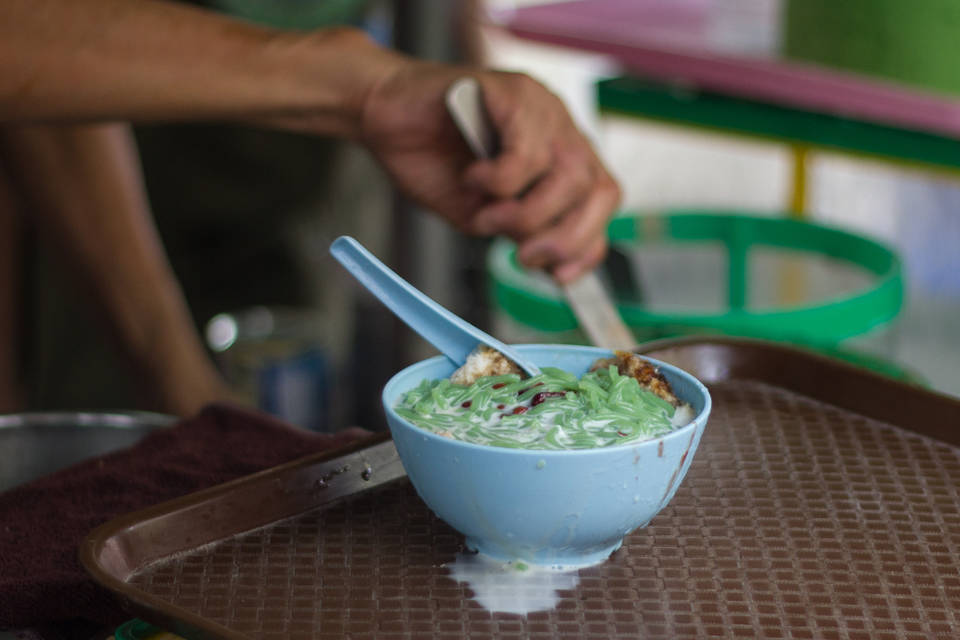 Every day hundreds of locals and sweet-toothed tourists flock to an otherwise quiet street just off Penang Road in the centre of Georgetown. On the other side of the street is a neglected rival stall, presumably there in the hope of benefitting from confused tourists or anyone not willing to queue for the popular version. The staff are highly efficient, so you won't have to wait more than a few minutes with the crowds. The distinctive blue bowls are filled from the ice-shaving machine, then the owner adds the other ingredients with a ladle and a few flicks of the wrist as if he's done it a million times before. Other versions of cendol around Asia are served in plastic cups as a drink but this is eaten as a soup; an icey, sweet, refreshing soup. I was instantly hooked. Penang can be unbearably hot (I've experienced it at 42°C) and I can't think of any better way to cool down than a bowl of this.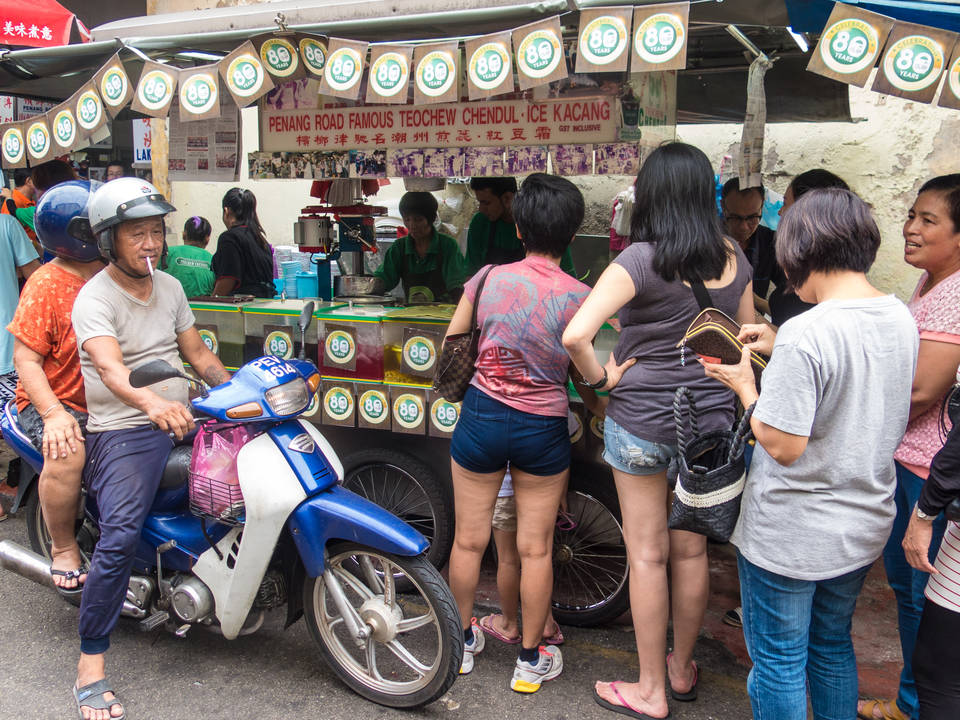 I've since travelled around Malaysia and Indonesia, trying cendol in different forms whenever I have the chance, but nothing compares to this version. Along with a few other dishes such as nasi kandar, cendol is definitely one of the reasons I've continued to return to the island over the last couple of years. On the first day of my visit at the end of November 2016, I headed to Penang Road for a bowl and discovered it was their 80th anniversary. A man standing by the stall explained that for the whole day all revenue would be going to foundations run by two local newspapers. He introduced himself as Owen Tan, one of the owner's sons and part of the third generation of the business. He says they wanted to celebrate the milestone by giving back to society. Kwong Wah Yit Poh (光华日报), a local Mandarin newspaper has a charity fund (好人好事) helping to pay medical bills for those who can't afford it and The Star, a Malaysian English-language tabloid, started the Star Foundation in 2004 to help fund various NGOs.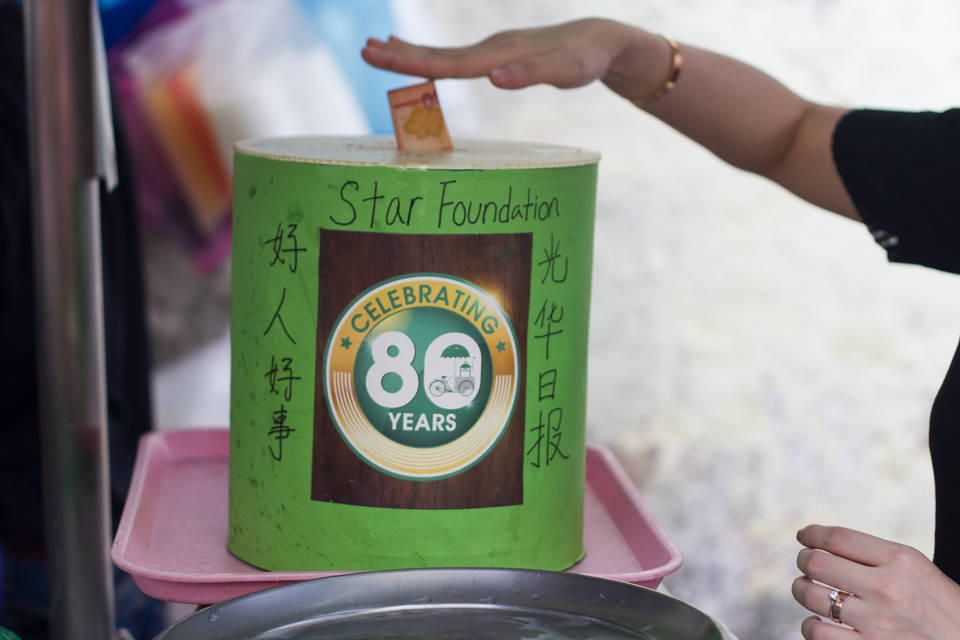 Owen's grandfather, Tan Teik Fuang, came to Penang from China and after struggling with his locksmith business, he needed to find a new way to support his family. Recognising demand for refreshing desserts in the hot weather, he taught himself how to make cendol and in 1936 he started selling it at a small push cart stall on Lebuh Keng Kwee where it remains to this day. It wasn't an instant success and took years of experimenting with the recipe and techniques, focussing on improving the quality for his customers. He continued through World War II, although curfews meant the hours weren't always regular. His children helped out when they could, but the years of physical strain from getting up at 4am every day to prepare the ingredients by hand took its toll and he died in 1972. His daughter took over until Tan Chong Kim, the fourth of his six sons, turned 18 and took charge in 1977. Amazingly, Tan Chong Kim is still the boss nearly 40 years later.
Chong Kim had been helping his father after school since the age of seven and having seen the amount of manual labour that goes into making the dessert, he wanted to transform the business by building a machine to help with the daily process without compromising flavour. The idea was rejected by the majority of his family due to fears that it would affect the quality of the food. He struggled with the decision until his mother told him, "believe in yourself and make it a success." Chong Kim worked with an engineer from Kuala Lumpur to design a custom machine to constantly stir the flour noodle mixture, replacing the hardest part of the job which he described as "like rowing a boat". A year later, after numerous trials, it was up and running. In the following years he added two more machines to cook the red beans and noodles. The business began to thrive.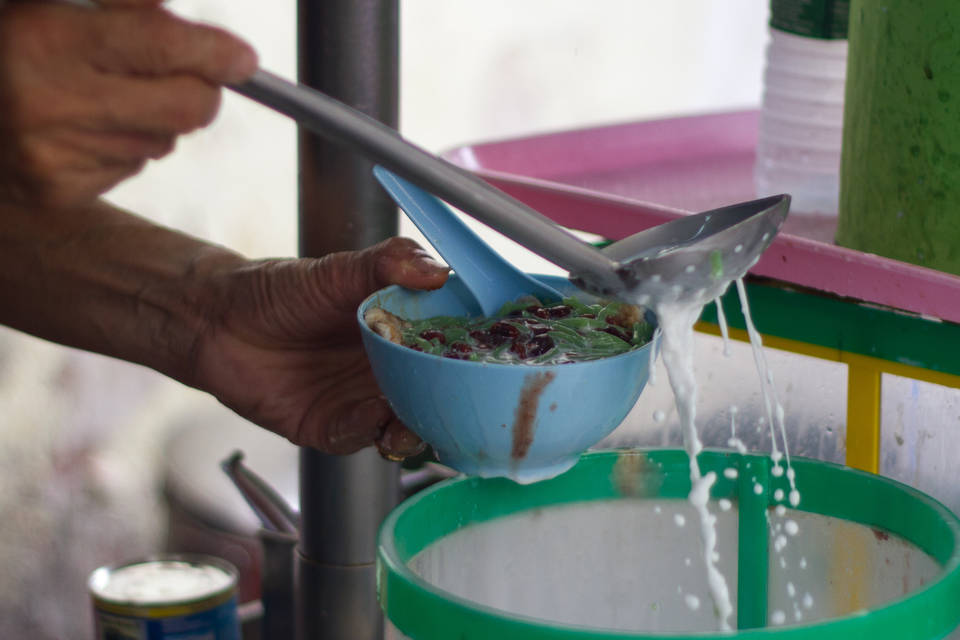 During the 1980s there was a trend of food and drink vendors moving to shopping malls across Malaysia, putting traditional hawker stalls at risk. In an effort to move with the times, their first expansion was opened in Super Komtar Shopping Mall in 1989 and other outlets followed. He also expanded the menu to include local favourites such as Assam Laksa and Penang Rojak. About 10 years later, the outlets were closed to focus on the original stall. Chong Kim is now 57 and works from 5am to 7pm every day, dishing out the dessert to the crowds at the original stall. Every time I visit, he serves me with a reassuring smile.
Owen, Jimm and Florence are the third generation of the Tan family business. In 2011, Florence moved back from Australia with her husband Von Fah Chuang and they proposed the idea of a franchise. It took nearly two years of planning but in 2013 their first franchise outlet officially launched at Paradigm Mall in Petaling Jaya. There are now an impressive 20 outlets, with more on the way. They're about to open a bigger central kitchen to supply outlets throughout Malaysia and internationally.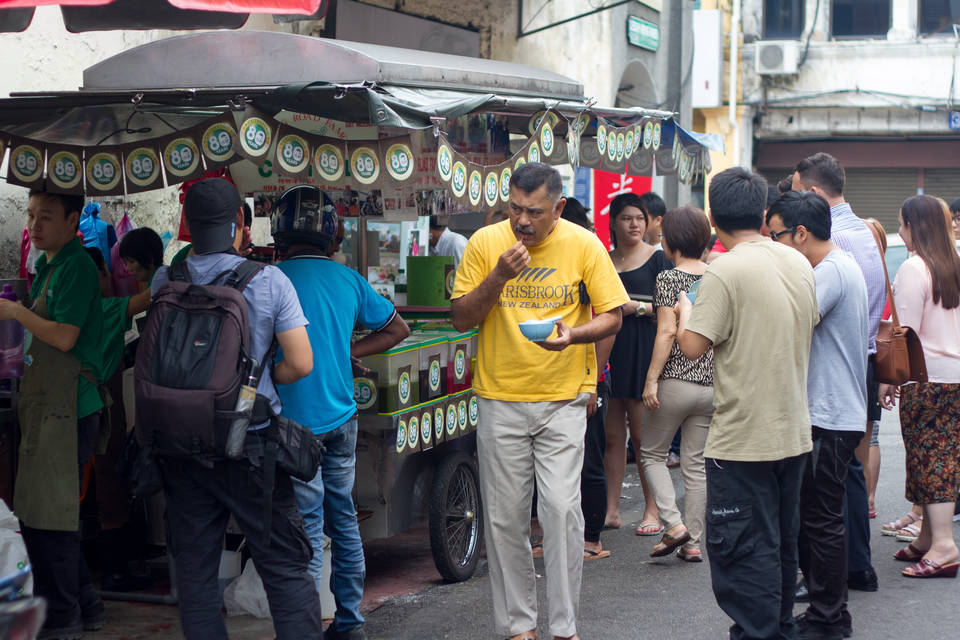 Owen is working to develop the franchise, reviewing each candidate before it can join the business. He's helping to share this delicious dessert with the world but says he can't have a bowl of cendol without "experiencing the hard work behind it".
I asked him why he thinks their dessert is better than the rivals. "It goes back to my grandfather's philosophy: the ingredients must be fresh and the chendul must be made daily. My father always focuses on improving our quality. This is not a simple bowl of chendul; there is perseverance and the principles of three generations of the Tan family."
---
* The dessert has many spellings and although "cendol" is the most common spelling, "chendul" is how it's pronounced.
info_outline I've made a guide to the best food in Penang and I run free food tours around Penang. For opening hours and other details, see my review of Pengang Road Famous Teo Chew Chendul.