I stood before a small shack with hand-painted wooden signs on the main road between two tourist areas, hidden in plain sight. Behind the bar stood a man with a large nose piercing and an even bigger smile. His skin covered in tattoos; the walls covered in rock memorabilia. His style might be commonplace in Brooklyn and London, but it really stands out in Thailand.
I was on Koh Lanta, an island in the Krabi Province of southern Thailand known for its hidden beaches, family-friendly atmosphere and laid-back locals. My first visit was back in 2012 when I arrived from a neighbouring island with the intention of staying for a couple of days; two weeks later, I reluctantly left to catch my flight home. I was instantly captured by the perfect balance of authentic island life and pleasant tourism, largely thanks to the type of traveller attracted here instead of the nearby party island of Koh Phi Phi. To cater for the increasing number of tourists (mostly from Sweden), there's an excess of great food options, however during my second visit I had started to crave something different; something that stands out from the thriving but formulaic businesses targeted at foreigners.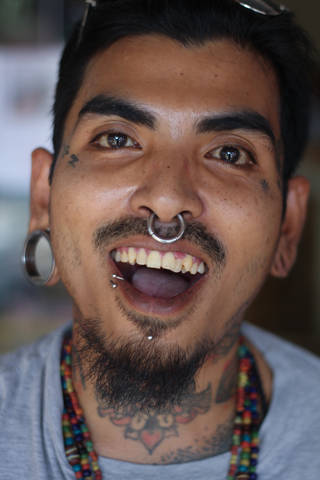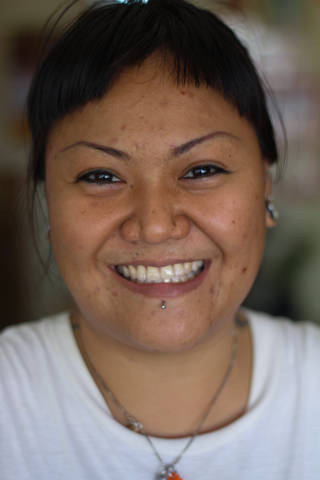 Jackie owns and runs The Angels restaurant with his wife Oh, who is even more radiant than he is. Originally from the town of Trang on the mainland, Jackie moved to Lanta eight years ago. Oh has been on the island for 10 years since leaving her home in Bangkok. They met at a bar on the island in 2008 and were friends for two years before they started dating. They quickly felt what she calls "real love" and married in 2011. They couldn't be more suited to each other, inside and out.
I asked how long the business had been going and Oh ran to get the company books to look up the exact date. On 7 August 2012 they opened the restaurant together and Oh named it The Angels, reflecting "the angelic goodness in people's hearts". It was originally a few doors down the road but it had to be relocated when the owner of the building wanted it back.
Only a few months after opening, Jackie had a motorcycle accident when he was hit by another vehicle. His left leg was badly injured and he couldn't walk for 10 months, needing his skateboard to move around their home. "We visited the hospital in Trang every month. It was a very hard time for us both," Oh says. "We'd been really looking forward to the high season in January and February and then everything changed; I was very sad." Even now Jackie has trouble walking and it's unlikely he'll ever be able to skateboard again.
They struggled financially and emotionally but their endless positivity means that it didn't stop them; "We both have strong hearts and we worked through it."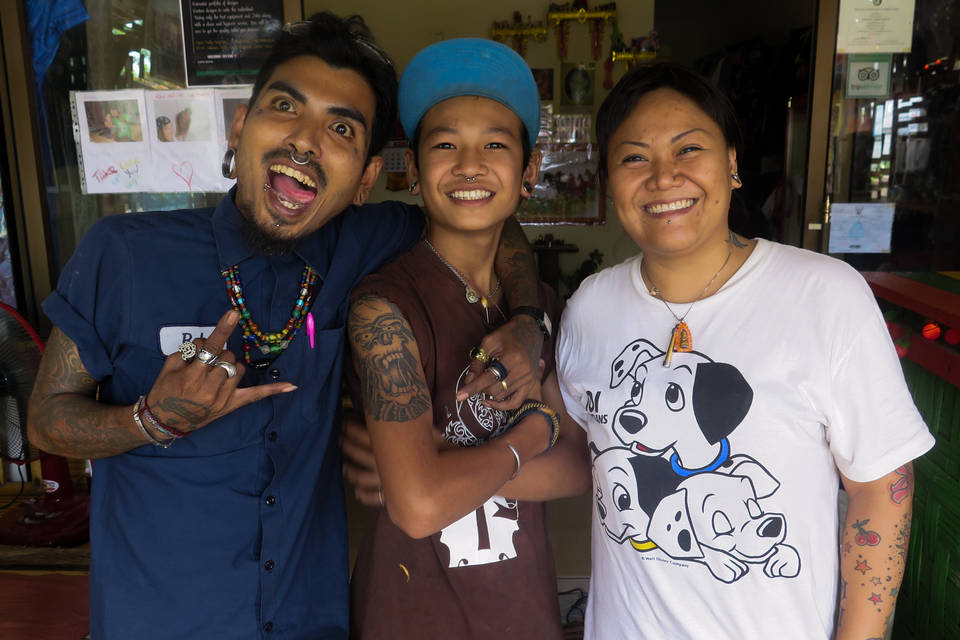 Perhaps the best example of their loving nature was when they recently added another member to their family: Jack, a 14 year old boy who grew up in the house opposite Jackie in Trang. Jack lost his mother when he was a baby and his father died two years ago. "He went to stay with another family who turned out to be bad. Every time we saw him, he didn't look well so we asked him why. When he told us what happened, we helped him and brought him to live with us on Lanta so we can give him everything he needs," says Oh. "We teach him cooking and all that's needed to be a good person. We give him freedom but tell him some things that he shouldn't do. We want him to have a wonderful life."
He's been taken under their wing and seems to be grounded, mature for his age and genuinely happy in his new home. He definitely fits in with their style, having already started his tattoo and piercing collections. Jack wants to continue to help with the business as he gets older; "I have a new life, a good life. We work as a team." It's clear he loves his new family and declares "Jackie and Oh are my papa and mama." Oh proudly adds, "we feel the same, he's our son."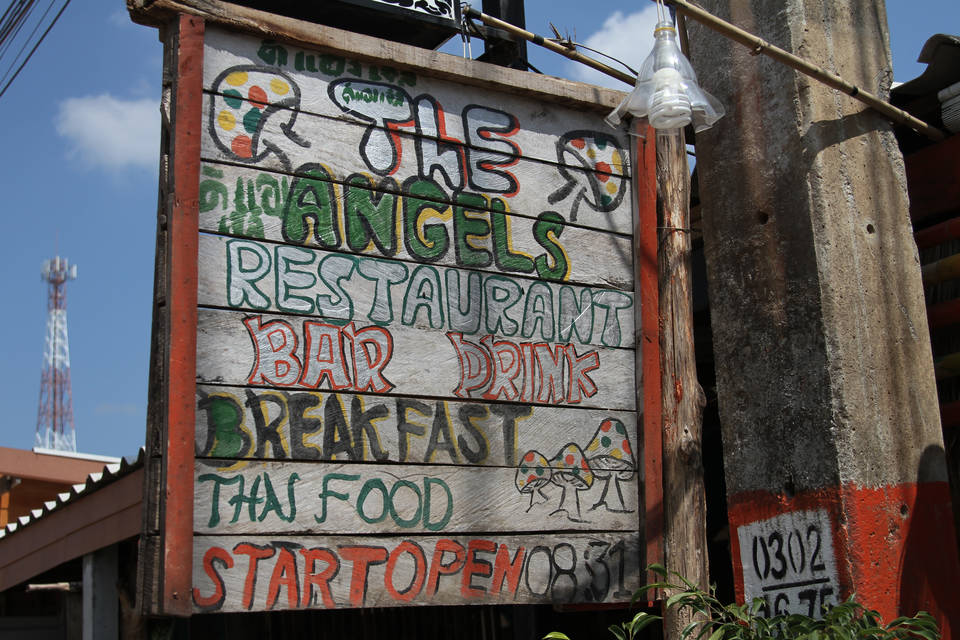 I had the pleasure of eating at The Angels multiple times and Oh is a great cook. Judging by the Panang curry and Pad Thai (Oh's favourite), she puts as much love into the food as she does the rest of her life. She worked in other restaurants over the years but credits her mother for teaching her as a child and then encouraging her to get a cooking qualification. A certificate sits proudly behind the bar.
When handing you a menu, she tells you she's happy to adapt any dish to your tastes; you can specify the spice level and remove any ingredients you might not be keen on. It was obvious that she wants your experience to be as comfortable and enjoyable as possible. She occasionally runs a cooking class but doesn't advertise it; "It's only for the friends I make. If they ask me about cooking, I'll do a class just for them."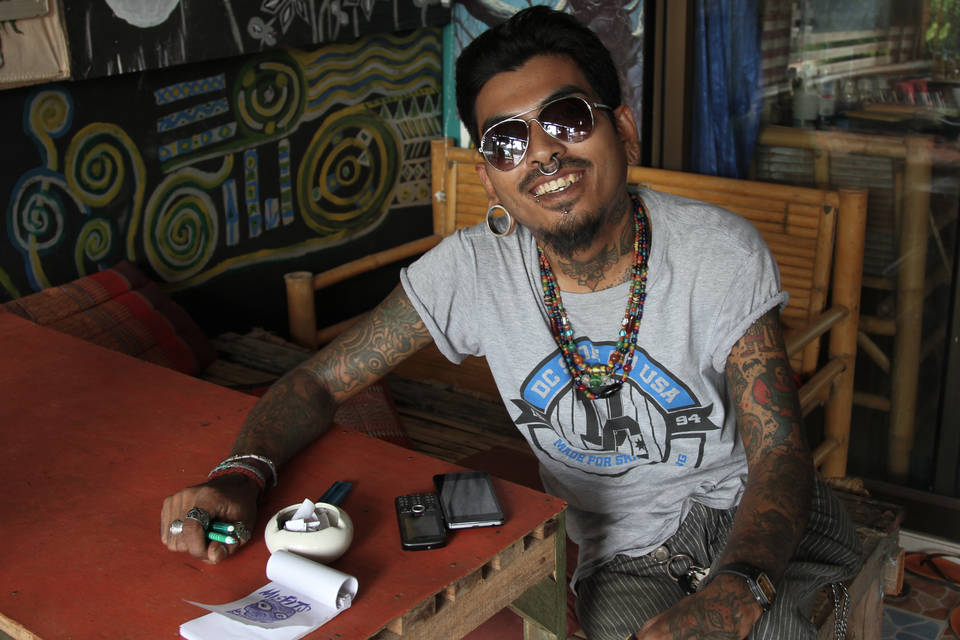 It's clear that the people they meet while running the business is what keeps them going. I asked them both separately about their favourite memories of owning the bar and both immediately spoke about the friends they've made. Oh excitedly showed me photos of various foreigners on her mobile phone; some on nights out together, some of little kids, some of families at the restaurant. She was happy to see their faces again, even just on a small screen.
Many foreigners come back year after year and some even stay with them, no doubt experiencing some of the best hospitality in Thailand. When the restaurant first opened, they befriended three French customers who had just had everything stolen from their hotel. The group were obviously very upset and had an understandably negative view of Lanta but Oh and Jackie took them in like family and helped them. In the end their new friends loved the island, being taken around by the couple and cooking together. "We even had a rock concert together in our house, dancing to CDs!"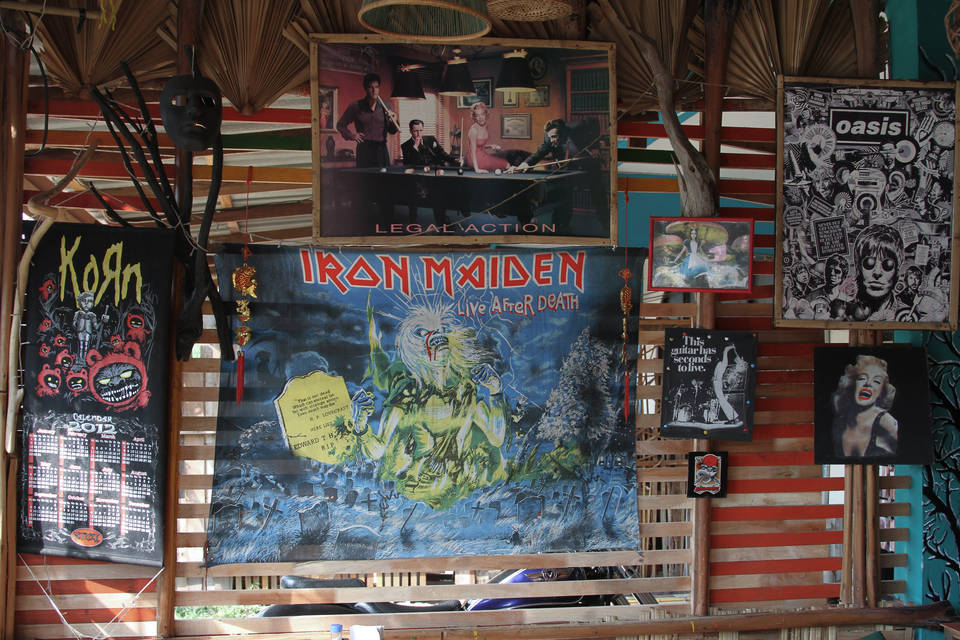 Their passion for rock music is evident as soon as you arrive. The memorabilia in the bar includes Nirvana, Oasis, Metallica and the Sex Pistols. Both of them say Korn are their favourite band (who Jackie recalls first hearing in 1999), with Oh adding Good Charlotte as her joint favourite. It seems Oh's love of rock has grown since meeting Jackie, along with her collection of tattoos.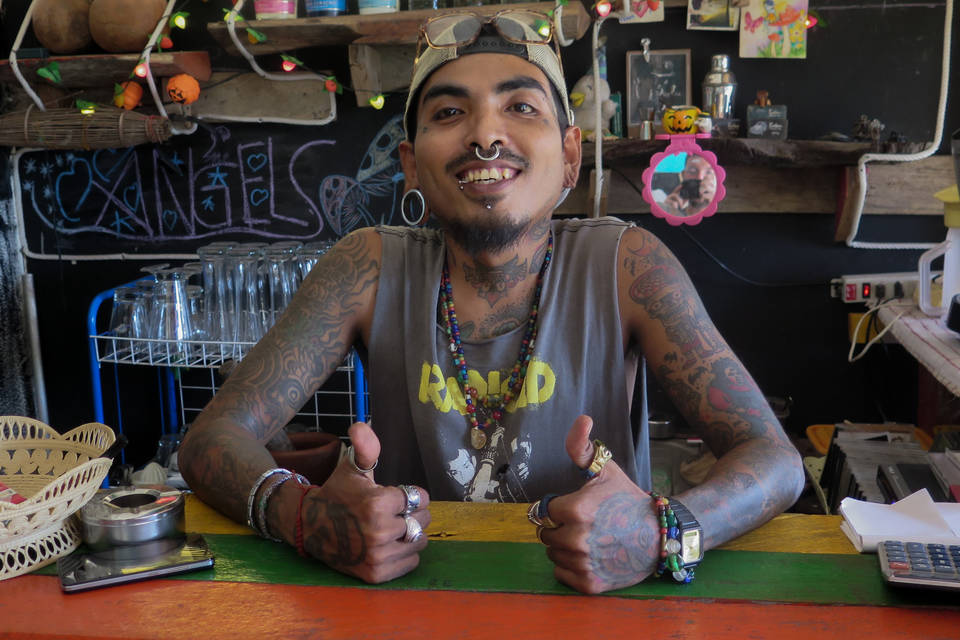 When I asked how many tattoos they have, neither of them knew, saying they have too many to keep count. They could both remember their first though. "I was 13 and it's a carabao on my right shoulder," Jackie says. A carabao is a type of water buffalo but also the name of a popular Thai rock band who have been performing since 1981. "Tickets are expensive but if you bring the horns or head of a carabao then you get in for free." I didn't ask if having the tattoo gets him a similar deal. He tells me he has many on his head which are currently hidden beneath his hair. Of the visible ones, some of his favourites are a small Poseidon trident and Zeus lightning bolt on his right temple and some good luck wealth symbols on his left temple.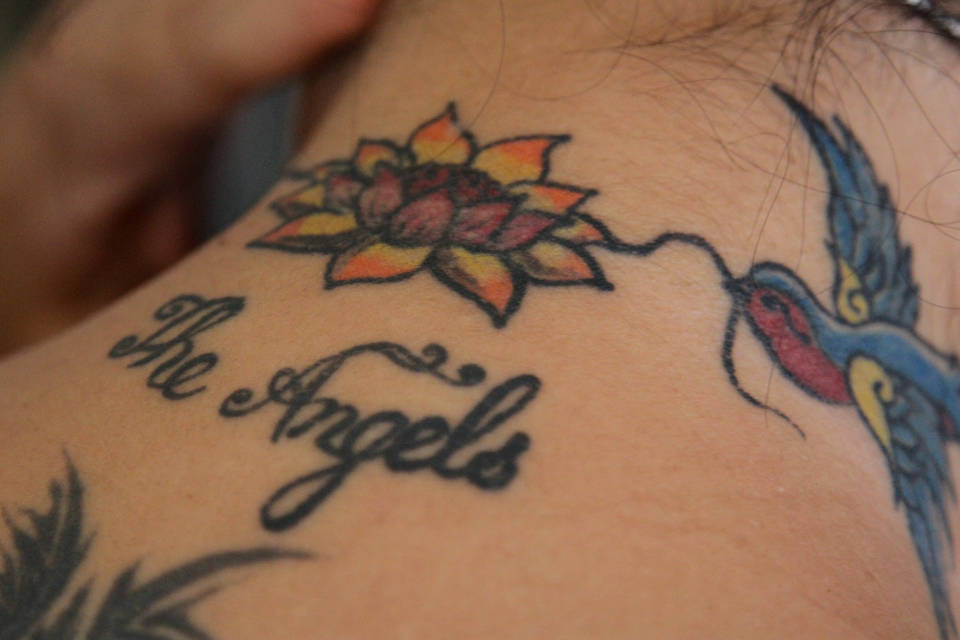 Oh's first tattoo was a dolphin on her left arm when she was about 15 years old in highschool. She's added many more to both arms since then. "The left arm has lucky tattoos and the right arm is for happiness and hope," she explains. When I asked for her favourite, she scanned both arms and said: "I don't have a favourite, I love them all," with the big grin that is as much part of her as the body art.
Apparently happiness is a choice but I doubt Oh and Jackie have ever considered any alternatives. Their happiness is infectious and I can't help but smile whenever I'm with them. There's no formula here; tourists aren't targeted, they're welcomed and embraced as friends. I've found the connection I was craving and I can't wait to go back.
---
info_outline I was on Koh Lanta for two weeks at the end of 2014 after previously visiting in 2012. For more information about the island, I put together a short guide. I've added an entry on Google Maps to help you find The Angels Restaurant & Bar, as shown below. Check out the reviews on Tripadvisor.